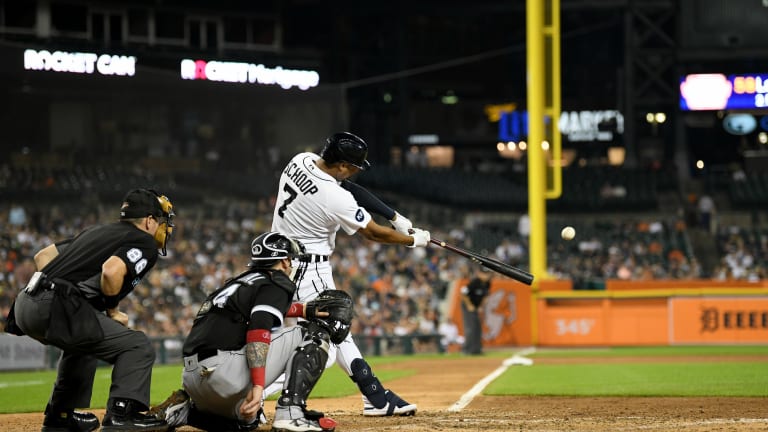 Detroit defeats White Sox 3-2 in 10th inning; fall four games behind Guardians
The tigers walk off with a 3-2 win against White Sox in the extra innings.
The offense was lifeless and Lucas Giolito was pulled in the 5th inning with two outs. The South Siders were coming off a game where they belted five homers in a must-win game against the Guardians. They followed that game by going 2-12 with runners in scoring position. Jose Abreu came through with the only run-producing hit, a two-run game-tying double in the eighth. 
Tigers starter Matt Manning held the White Sox scoreless for seven innings. The momentum swung in the Sox's direction in the eighth inning when Sox reliever Joe Kelly struck out Spencer Torkelson on a breaking pitch that bounced toward the mound off catcher Yasmani Grandal's shin guard, giving an aggressive Baez a chance to score from third. But Kelly scooped the ball with his glove and flipped it to Grandal, who tagged out Baez to end the inning. 
But it only delayed the inevitable.
"We got two runs," acting manager Miguel Cairo said. "We didn't score enough."
Cairo chose not to bunt in the 10th, deciding to be aggressive and play for multiple runs. "If I would have bunted right there to move it over, Lange is nasty," Cairo said. "We've got Andrus coming up and Moncada. He throws a lot of sliders, so I was just– you're the visitor, so I want to be aggressive. It didn't work out."
Abysmal Effort
Josh Harrison, Elvis Andrus, and Yoan Moncada struck out against Alex Lange with ghost runner Luis Robert at second in the 10th. The Tigers won when ghost runner Ryan Kreidler scored from third on Victor Reyes' sacrifice fly against closer Liam Hendriks. Kreidler advanced to third on a sacrifice bunt by Willi Castro, who was safe at first on Hendriks's throw in the dirt. 
"I thought I had a play at third," Hendriks said. "But there was no one there. Just the second error of my career, I think. So it's unfortunate that it happened in this situation. [The sacrifice fly] would have been the third out there, and we all of a sudden get a chance to hit again." As Hendriks correctly stated, the error was only the second of his 12-year career.
Lucas Giolito pitched 4.2 innings and was ineffective despite giving up only one run. He was relieved by Jimmy Lambert who got the third out of the fifth with Javy Baez at third. The Tigers took a 2-0 lead on Jonathan Schoop's homer against Lambert with two outs in the sixth.
"We're in a position where we have to win a lot of games in a short period of time, regardless of how Cleveland is playing or Minnesota is playing," Giolito said.
Hendriks wouldn't hear anything on the notion that the Sox are out of time.
"Let's stop saying it's too late," he said, citing three games left against the Guardians.
A Real Rarity
The only other error in Hendriks' career came on September 5th, 2017 with the Oakland A's. The error was on a pickoff attempt in a loss against Seattle.
Stay Hot Elvis
Elvis Andrus had a 3-5 night and scored a run on Jose Abreu's double. He had the only three hits off Manning through the first six innings.
Notes
Tim Anderson spoke to the media before the game. There is no timetable for his return but he is ramping up baseball activity.
Javy Baez finished 3-3 with a triple, double, walk, stolen base, and two errors. He has 26 errors and 25 walks this season.
What's On Tap Next?
The second of the three-game series on Saturday night will feature Detroit's Eduardo Rodriguez against Johnny Cueto of the White Sox. The game will air on NBC Sports Net Chicago and Sox On Tap will have the post-game.