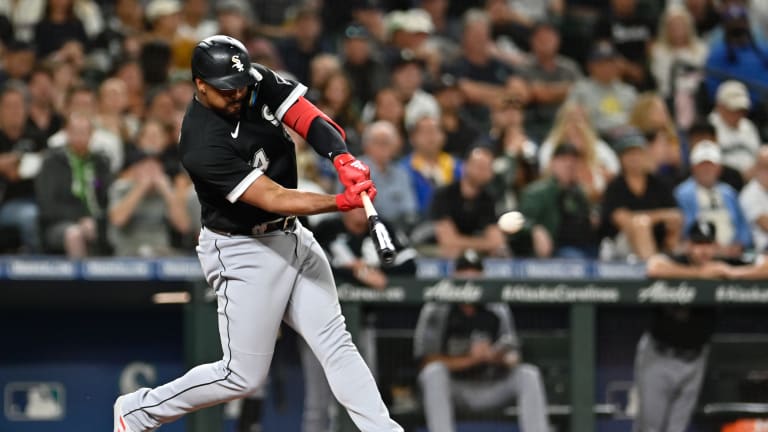 How Eloy Jimenez is Bringing the Thunder for the White Sox
Since returning in early July, Eloy Jimenez has been the middle-of-the-order force the White Sox hoped he would become.
In July of 2017, the Chicago White Sox acquired a player they believed would be a middle-of-the-order masher for their next competitive team. Since his arrival at the corner of 35th/Shields, Eloy Jimenez has been a frustrating player to say the least. He's shown flashes of the player we were promised he would be, but he's often left us wanting more.
Riddled by injuries and inconsistent offensive performance, Eloy has been a bit of an enigma. His inability to stay on the field consistently has been one of the biggest knocks on him, as we often say at Sox On Tap, availability is the most important ability. Sadly, the joyful Dominican has fallen short in this area, having never played more than 122 games in a season since his call-up in 2019.
When on the field, since he returned from a torn pectoral muscle sustained during Spring Training of 2021, Jimenez has not been the force he was expected to be. Early in the 2022 season, it looked as if it would be more of the same. Through the action on April 23 when he injured his hamstring, he was slashing a mere .222/.256/.333 with just one home run.
This offensive output coupled with his "adventurous" defense led many to question his ultimate role with this team going forward. For a team that looked as if it was in need of a roster remodeling, Jimenez was at the center of the focus.
The Re-Emergence
Since returning to action on July 6, Eloy Jimenez has been exactly what the White Sox and their fans hoped he would be. In his last 203 plate appearances, he's slashing a robust .318/.394/.520, good for a 163 wRC+ that ranks 11th in all of baseball during that time.
The slugging aspect of his game returning has been the most welcomed sight. He's crushed 10 homers since his return and has been the most impactful bat in the White Sox' lineup as they attempt to chase down Cleveland and Minnesota in the AL Central.
The improved slugging output looks as if it could be a result of a shift in offensive approach. Look at the stark contrast in Eloy's batted ball data compared to 2021:
Eloy Jimenez Batted Ball Data

| | Pull % | Center % | Oppo % |
| --- | --- | --- | --- |
| 2021 | 40.8% | 30.6% | 28.7% |
| 2022 | 37.1% | 40.1% | 22.8% |
As you can see, the biggest difference in Jimenez's approach this season has been his decreased opposite-field approach. He is going to the opposite field close to 6% less often than he did a year ago, while using the middle of the diamond almost 10% more frequently. To be blunt, there are fewer home runs and extra-base hits to the opposite field than there are to the pull side and center of the diamond, so this improved approach from Eloy is a welcomed sight that is paying dividends, clearly.
Another encouraging sign is the improved Exit Velocity (yes, this matters) from the 25-year-old. His average EV is up to 92.3 MPH, which is higher than his 90.5 MPH figure from a year ago. It doesn't take a rocket scientist to realize that if you hit the ball harder while not trying to push everything to the opposite field you can be a more impactful bat in the middle of the lineup. Jimenez is following this to a tee.
Patience
Perhaps the most encouraging development to Eloy's offensive profile has been the increased patience at the plate. On the season, Jimenez's walk rate is up to 9.5% compared to a 6.9% mark a year ago. In fact, Eloy currently has the highest walk rate of his career by a significant margin.  He's doing this while also sporting the lowest K% of his career at 20.7%.  It appears as though the maturation of a former top prospect is finally taking shape.
It's not just the walk rate itself that is encouraging to see. I talk frequently about the fact that walks aren't the end-all-be-all when it comes to having an effective offensive approach. Rather, the goal should be to work yourself into counts where you can inflict damage upon the baseball. This has certainly been the case for Jimenez since his return.
The Dominican outfielder has been ahead in the count in 87 plate appearances since his return. Those instances have resulted in him slashing a robust .343/.471/.486, good for a 183 wRC+. After reaching out to multiple sources, I can confirm that is, in fact, good. Not to discount walks entirely here, as Jimenez has seen a walk rate at an elite 19.5% when getting ahead in the count since his return.
It stands to reason that the elevated walk rate could be a function of the overall lackluster offensive performance of the White Sox this season. Nevertheless, Eloy is showing why so many of us within the fan base had such high hopes for the happy-go-lucky youngster.
Building Block?
Earlier in the season, I posited that Eloy Jimenez couldn't reasonably be counted on given his inconsistent offensive performance and inability to stay on the field. However, the enhanced Eloy with his new offensive approach looks the part of a middle-of-the-order force that this team needs.
Yes, he is still going to be an adventure when he returns to left field, and who knows when that will be. Sure, you should anticipate little nagging injuries to keep popping up with him until they don't. But at the end of the day, this team wouldn't be within striking distance of a playoff berth if Jimenez wasn't bringing the thunder since his return.
He can be a frustrating player at times. But over the last two months, we have seen the promise that captured our imaginations as fans when he was still a prospect. Eloy continuing to be a major force in the middle of the White Sox' order, which has struggled to provide thump overall in 2022, could be the thing that pushes this team over the top should they continue to play quality baseball. All year, we've been clamoring for this team to hit for more power. Now, Eloy is taking the bull by the horns in that department.
It wasn't long ago that I said I believed Eloy Jimenez would be the first player in franchise history to eclipse the 50 home run plateau. While that may have been an overshot on my part, it still stands to reason that Eloy can be the most impactful presence in this lineup.
If the improved offensive approach continues for the remainder of this season and into the future, the Chicago White Sox may very well have the offensive monster they thought they acquired five years ago.