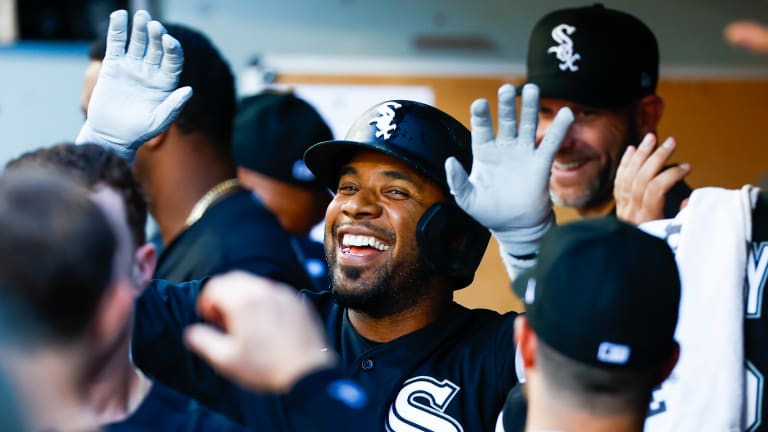 Playing For Keeps: Elvis Andrus Proving His Worth for White Sox
Since joining the White Sox, Elvis Andrus has provided a desperately needed spark. Is he in position to secure a greater role should Tim Anderson return?
Elvis is in the building, folks. Elvis Andrus that is. Since joining the Chicago White Sox on Aug. 19 when Tim Anderson went on the injured list again, the 34-year-old has been just what the doctor ordered. The 13-year veteran has given the Sox a needed boost at the shortstop position, allowing them to stay in the thick of the AL Central Race.
In 16 games with the Pale Hose, Andrus is slashing a surprisingly solid .303/.333/.500 with three home runs and a 137 wRC+ across 69 plate appearances. This stretch follows a release from the Oakland Athletics on Aug. 17 after slashing .237/.301/.373 with eight home runs and a 99 wRC+.
Andrus' roughly league-average performance offensively wasn't anything to write home about. However, merely providing stability was what the Sox were looking for at the time Anderson hit the IL.
I think expectations were generally tempered upon his arrival to the South Side. But in the small sample size, he has already been a positive contributor in all aspects of the game. I don't think many fans expected Andrus to be a player that would significantly alter the trajectory of the 2022 White Sox. Rather, most hoped he would be a steady placeholder in the absence of the team's All-Star shortstop.
Leading By Example
As I've discussed on recent episodes of Sox On Tap, Elvis Andrus is the definition of a winning Major League player.
He was part of the back-to-back pennant-winning teams with the Texas Rangers in 2010 and 2011. He's a two-time All-Star and was a runner-up in American League Rookie of the Year voting during the 2009 season. Andrus was one of the core pieces of a Rangers team that made the postseason five times in a seven-year window, so he understands what it takes to be successful at this level.
Bringing in a player with Andrus' credentials for a final push to chase down a playoff spot is not necessarily a sexy move at this point, but rather one that is just very sound. Given the alternatives the White Sox were faced with at the time, signing Andrus was seemingly a no-brainer for an organization that, if we are being honest, has a history of not making wise decisions. To see the White Sox' "brain trust" make an obvious move, was surprisingly refreshing.
Just What The Sox Needed
To this point, Andrus has made the move look as good in reality as was on paper. Yes, we are talking about a small sample size, but the fact is the team only needs him to perform well for a small sample size if they are to chase down the Cleveland Guardians and Minnesota Twins.
Outside of the numbers that are readily available on any stat website you fancy, Andrus has provided intangibles and a high baseball IQ that is visible to any observer of this team. From getting good reads on the basepaths to advance an additional 90 feet, to positioning himself correctly on the diamond, or executing based on the situation at the plate, Andrus has been exactly what this team has needed.
We have all seen how unsound this team is fundamentally all season. But Andrus has provided at least a modicum of stability to the shortstop position and lineup as a whole since joining the Sox.
Cleaning It Up
I have harped on the Chicago White Sox' poor defense seemingly all season, and with good reason. In just 16 games with the team, Elvis Andrus has already been worth 1 Out Above Average (BaseballSavant's defensive metric) at the shortstop position.
Again, at 34 years of age, he isn't going to be the defender he was a decade ago in Texas. But he has provided stability to a position that has been anything but stable all season. This is really all this team needed and Elvis has delivered to this point.
Thus far, Andrus has made the routine plays that have come his way. He has thrown in a few spectacular plays as well, but those will be the exception rather than the norm for the veteran at this juncture in his career. At no point in the first few weeks of his White Sox tenure have we as fans been dismayed by anything he has done on the field. And that is a far cry from just about the rest of this roster.
Making A Shift?
Given his quality play at the dish and in the middle of the White Sox' infield, is it possible that Andrus will be in position to secure more playing time should Tim Anderson return this season?
He has never played a position other than shortstop during his MLB career. However, the transition from shortstop to second base is typically the easiest one to make for infielders. So would Andrus be in position to see more action at the keystone should this team keep their season alive into October?
At this point, it would be hard to relegate Andrus to the bench. The Sox have played a game of musical chairs at second base all season with Josh Harrison, Leury Garcia, and most recently Romy Gonzalez. Given his pedigree and performance to this point, it would stand to reason that Andrus would be in position to see time at a new middle infield spot.
Ride The Hot Hand
Look, I know it's only 16 games and it could be a small sample size for an aging veteran. But Andrus has served as a stabilizing force for the White Sox offensively and defensively in a short time. 
Could this all fizzle out in short order? Sure, but for a Sox team that is fighting for their lives, they need to continue to play the hot hand for as long as it lasts.
Should Tim Anderson return this season, it shouldn't signal the end of Elvis Andrus' playing time with the Chicago White Sox. He has filled in admirably and given this team more than any of us could've expected.