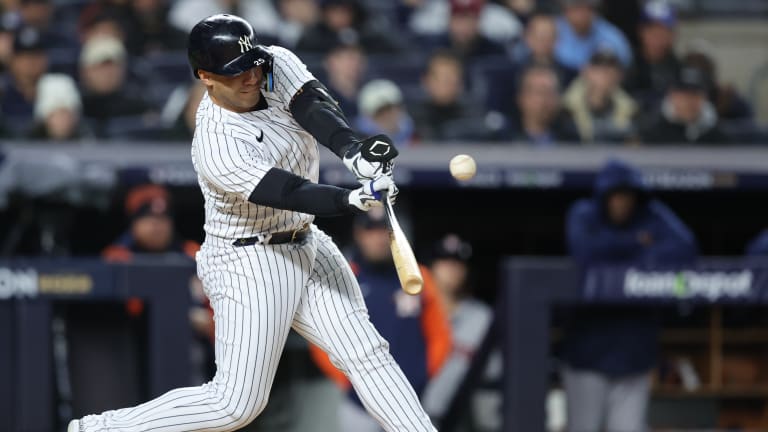 Could the White Sox Trade for Gleyber Torres?
The Yankees second baseman would be an upgrade at a position of need for the White Sox.
The rumor mill of free agency and trade speculation is winding down as Spring Training approaches. Chicago White Sox general manager Rick Hahn stated the team is ready to compete as currently constructed. However, he also mentioned that they are still open to improvements.
Hahn has addressed left field with Andrew Benintendi and rounded out the starting rotation with the addition of Mike Clevinger. Chicago's roster is mostly set for 2023 but a couple of positions could still be addressed.
Top-100 prospect Oscar Colas is slated to be the right fielder at some point in the season. Second base is a perennial need for the Pale Hose and this year is no different. As things currently stand, the White Sox intend to choose between Lenyn Sosa or Romy Gonzalez after Spring Training. 
However, Bruce Levine of 670 The Score speculated on a trade partner to address second base. Levine's idea was a trade between the White Sox and Yankees that would see reliever Garret Crochet to New York exchange for second baseman Gleyber Torres.
Instant Upgrade
Torres would immediately be the best option for White Sox at second base. Torres is a few years removed from his All-Star campaigns in New York, but his 24 home runs in 2022 would be a welcome addition. The South Siders did not hit as well as expected in 2022 and the long ball was a problem for a team built around power. Torres would be a big help in that area even if his defense leaves a lot to be desired.
The White Sox wouldn't be acquiring him for his glove. The former Chicago Cubs prospect posted a 4.1 WAR season last year for the Bronx Bombers. Chicago has not had a second baseman with a WAR above three since Yolmer Sanchez in 2017.
Crochet was a first-round pick of the White Sox in 2020. The big lefty missed the 2022 season with a torn UCL elbow ligament that required Tommy John surgery, but he is expected to be ready for Spring Training 2023. Chicago sorely needed left-handed relief pitching in 2022 after Crochet's and Aaron Bummer's injuries.
An Easy Choice
The expectation for Garrett Crochet is in high-leverage relief and possibly spot starts with the goal of eventually making him a starter. If the Chicago White Sox were to move Crochet in a trade, Jake Diekman and Aaron Bummer would be their best lefty options. Tanner Banks is also a possibility.
Financially, the deal works out for the White Sox. Spotrac currently lists Chicago's payroll at $175 million including arbitration projections. Gleyber Torres is expected to receive $10-11 million in arbitration this year, which would keep the Sox under last year's opening day payroll of $193 millions.
Crochet's lefty presence would undoubtedly be missed in the bullpen. However, an everyday player with a 4.1 WAR value offsets those concerns. Swapping the players is a no-brainer for the White Sox.