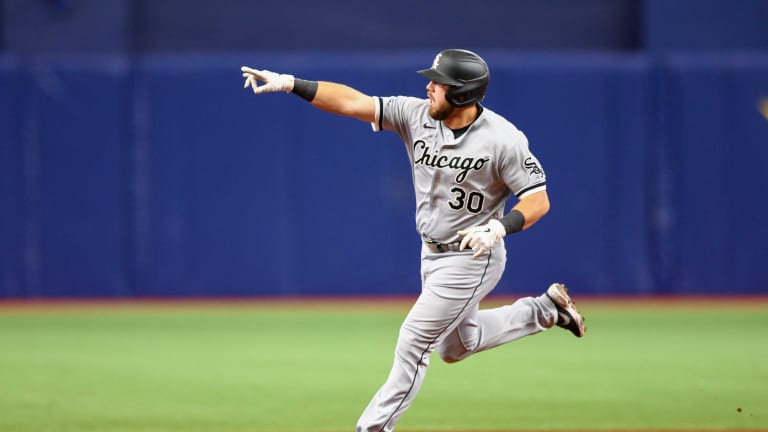 2022 White Sox in Review: Jake Burger
Burger provided a spark to the offense in an injury-shortened season.
Jake Burger's fortunes finally turned for the better in 2022. The former first-round pick has a long history of injuries since being drafted by the White Sox in 2017. A twice-torn Achilles tendon cost Burger the 2018 and 2019 seasons. The COVID-19 Pandemic canceled the 2020 minor league season, further delaying the third baseman's development. Burger played in 39 games for the Triple-A Charlotte Knights and 51 games filling in for the often injured White Sox. He made a couple of trips to the IL and a wrist injury cost him the final month of 2022. He flashed potential at the plate in his brief stint with a knack for big moments. 
Burger Time
Entering the season, Burger's future as a pro baseball player was in jeopardy, but things changed for the better. He appeared in 82 games with Triple-A Charlotte in 2021 and hit to the tune of .274/.332./.513 and earned a big league promotion. It's an enormous success considering he hadn't played in three years. It's safe to say he took another step as a pro in 2022 with the White Sox. 
An oblique injury to third baseman Yoan Moncada opened the door for him to the big leagues on April 8. Burger clubbed eight homers, drove in 26 RBIs, and slashed .250/.302/.458 in 183 plate appearances. Burger came through with a pinch-hit 8th inning two-run homer in a 3-2 win against the Tampa Bay Rays that snapped a four-game losing streak. It was one of a few big hits he contributed to a mostly lifeless 2022 White Sox offense.
Burger has the opportunity to become a solid hitter, though he will need to find a position. The big righty produced -7 outs above average in a short time at third base making it safe to say he's most likely a first baseman and/or DH. Injuries and solid hitting paved the way for his ascent to the big leagues, but he dealt with some injuries of his own. Burger was placed on the 7-day IL on July 6 with a right-hand bone bruise and was optioned to Charlotte after his rehab assignment. He landed on the IL again at the end of August with a hand injury that effectively ended his season.
Final Grade: C+
What's On Tap Next?
The White Sox had few expectations for Burger in 2022 but he filled in more than adequately when called upon. Yoan Moncada has manned third base since the end of 2017 and Chicago has a few first base and DH-type players. It's unlikely that Burger will get a call-up in 2023 without injuries, but he's shown that he's a valuable asset in those situations.