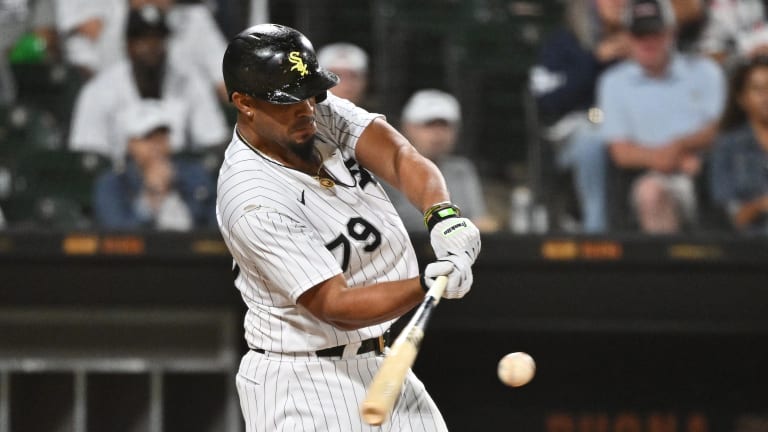 Change is Coming for the White Sox
Jose Abreu and Rick Hahn commented on the Cuban slugger's future with the White Sox, and parting ways may very well be in the cards.
A disappointing Chicago White Sox season that began with World Series aspirations is coming to an end. Manager Tony La Russa has stepped down due to health reasons. The club has clinched a second-place finish in the AL Central and can finish just two games above .500 with a win and sweep of the Minnesota Twins in the regular-season finale.
But things are just starting to get interesting. All of these situations coming to a head begets a plethora of questions regarding the future of the franchise. Needless to say, the winds of change are swirling.
Rick Hahn spoke to reporters following La Russa's announcement that he is stepping down as manager. The White Sox' GM used this as an opportunity to host his season-ending presser. Hahn touched on several topics that left fans scratching their heads, but the future of one player in particular was the hot topic. That player is one of the most iconic players to ever suit up for the Sox — none other than Jose Abreu.
An Uncertain Future
When asked about Abreu, Hahn made some interesting comments.
"He's been exemplary in terms of what you want a White Sox player to be for nine years now in a White Sox uniform. No matter what the holds for him, here or elsewhere, I don't think you are ever going to hear anyone with this organization say a bad word about Jose. Nothing but admiration and respect for the professionalism and the way he's carried himself on the field and off the field.

"How he fits going forward, that remains to be seen come this offseason. Obviously, there's only so many different ways you can fit various players on the roster, and Jose returning would have a ripple effect on others. But we'll have to wait to see how things unfold and make those decisions accordingly."

- White Sox' GM Rick Hahn on Jose Abreu
This is far from a ringing endorsement for Abreu's return. The slugger's three-year extension expires at the end of the season and he will become a free agent. Hahn is in a difficult situation – that he put himself in – with the White Sox' roster containing several players that fit the 1B/DH mold.
Roster Jam
Gavin Sheets, a first baseman, has shown improvement in the field and at the plate despite playing out of position. The White Sox also have a former first-round pick, Andrew Vaughn, playing out of position in the outfield. And last but not least, slugger Eloy Jimenez has dealt with many injuries and may be best suited for DH.
Adding Abreu into the mix creates quite the conundrum. One solution that seems to be unpopular would place Jimenez in left field, Vaughn at DH, and Abreu at first with Sheets on the bench. Sheets can fill in to add left-handed hitting.
The Soul Of The Sox
Jose Abreu was also asked about his future with the team, and the Cuban slugger's words didn't inspire confidence in his return.
"I'm just thankful and loyal to Jerry," Abreu said Tuesday through translator Bill Russo. ''He gave me the opportunity to play here, and I appreciate the opportunity. I am a White Sox. I'll be a White Sox tomorrow. We'll see.''
When talking about the fans, it felt like a long goodbye.
"I want to thank them for all the support, for always having my back," said Abreu, who may have already played his final game with Sox after asking to sit out Wednesday's season finale. "These were a special nine years, and I hope there can be more. But up to now, it's been very special, and I'm going to be forever grateful for them."
An Impossible Decision
It appears that someone is an odd man out. A younger player like Sheets can provide much-needed left-handed hitting, Vaughn is an up-and-coming hitter who has been playing outfield (badly), and Jimenez is best suited for DH because of injury issues and poor fielding.
However, Abreu made it clear that he intends to play in 2023; the question is where. "Claro! [Of course!]" he shouted in Spanish when he was asked. "I'm still hungry about the game. Once I lose that, then I know that it's time [to retire]."
Make what you will of these comments from Hahn and Abreu. However, it is undeniable that Jose's future with the White Sox is up in the air. Today marks the final game of the 2022 season and we will know in the coming months if it is Abreu's last game as a Chicago White Sox.