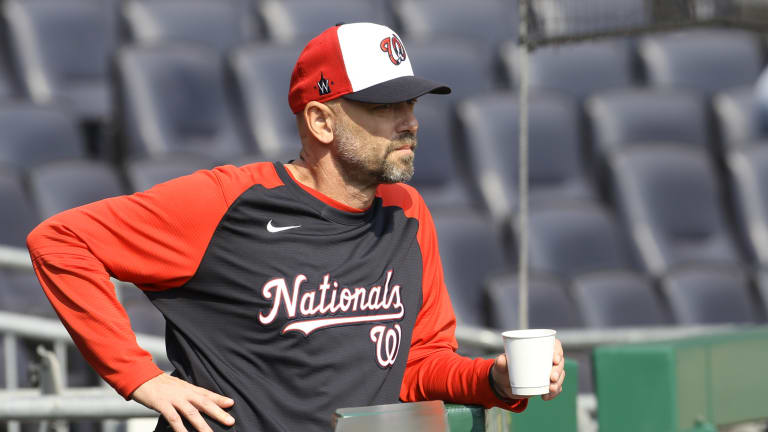 White Sox Among Teams Interested in Phillies Hitting Coach
Phillies' hitting coach Kevin Long has emerged on the list of White Sox manager candidates.
The Chicago White Sox managerial search has quieted down in recent days. However, yet another name has surfaced in the latest rumors. There have been a lot of talks recently around Philadelphia Phillies' hitting coach Kevin Long.
Long has been in professional baseball for quite a while. During his playing days, he spent time in the Kansas City Royals system but never reached the big leagues. Since the end of his playing career, he has served as hitting coach for the New York Yankees, New York Mets, Washington Nationals, and with the Phillies in 2022.
It's common to see coaches from successful teams draw interest from other organizations. Philadelphia has gone on a cinematic run to the World Series in 2022. The Phillies were 22-29 on June 2 when they fired manager Joe Girardi. Bench coach Rob Thomson replaced Girardi and things turned around quickly.
The Phillies went on to win their first eight games and went 18-8 for the rest of June. Philadelphia will play the Houston Astros in the World Series, where Kevin Long can add a third title to his resume. He was part of previous World Series championship teams with the Yankees in 2009 and the Nationals in 2019.
"He's so good for me because he keeps me grounded, he keeps me balanced," Thomson said of Long. "And he's got so much energy that when the players come to the cage, if they're tired, by the time they leave the cage, they're full of energy and they're ready to go."
Kevin Long's Potential Fit With the White Sox
Long certainly fits the bill of the criteria laid out by White Sox general manager Rick Hahn. Hahn spoke of candidates with recent postseason experience, open communication, and an understanding of how the game has evolved while holding old-school sensibilities. Hahn mentioned recent experience in the dugout and did not specify that previous managerial experience was required.
Thus far, he has stuck to his word based on the candidates he has interviewed.
Mark Feinsand of MLB.com reported a couple of weeks ago that Kevin Long is being considered for multiple managerial vacancies. Those teams include the White Sox, Royals, Marlins, and possibly more.
The Chicago White Sox had a major power outage in 2022. The long ball (pun intended) was mostly absent from their offense and declined year over year from 2020 to 2021. This led to a great deal of criticism directed at hitting coach Frank Menechino throughout the season.
Nevertheless, Kevin Long won't be going anywhere until the end of the World Series, which starts on Friday, Oct. 28.