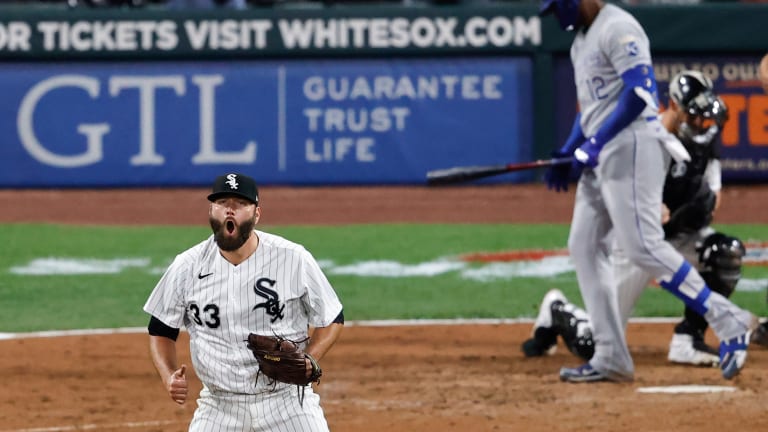 White Sox' Lance Lynn Wins Pitching Ninja Award for Best K Strut
Lynn's energy on the mound is something White Sox fans have grown to love and hope to see more of in 2023.
Lance Lynn's 2022 campaign got off to a rough start. In his last Spring Training start, he exited with a knee injury that later required surgery and resulted in a nine-week layoff. He made just three starts in Triple-A and needed some time to get himself right. The beginning of the year started poorly. However, after a tough outing in Oakland, the big righty made some adjustments to his pitching repertoire that paid big dividends for the rest of the year.
Lynn produced 10 quality starts in his final 12 outings of the season. This was the version of Lynn we saw in 2021 where he earned an All-Star nod and finished third in AL Cy Young voting. Needless to say, there were no All-Star Game or Cy Young votes for Lynn in 2022.
He did take home an award for K strut of the year from Rob Friedman, aka Pitching Ninja. As all Chicago White Sox fans know, Lynn gets very animated on the mound after big strikeouts. It's something we've grown to love and hope to see more of in 2023.
Lance Lynn indeed found his groove in 2022, as Jason Bennetti mentioned in the video. He's not afraid to let opposing hitters know where he stands and what he thinks of them. The self-styled "Big Bastard" is the straw that stirs the drink for the White Sox. He's the backbone of the team and it's no surprise that it's his second straight year taking home the award.
While it's fun for us fans to see Lynn receive recognition for being cool and tough, we would much rather see him hoisting the World Series trophy in a downtown parade. I'm sure Lance would agree with that statement, but for now, this award will have to do.