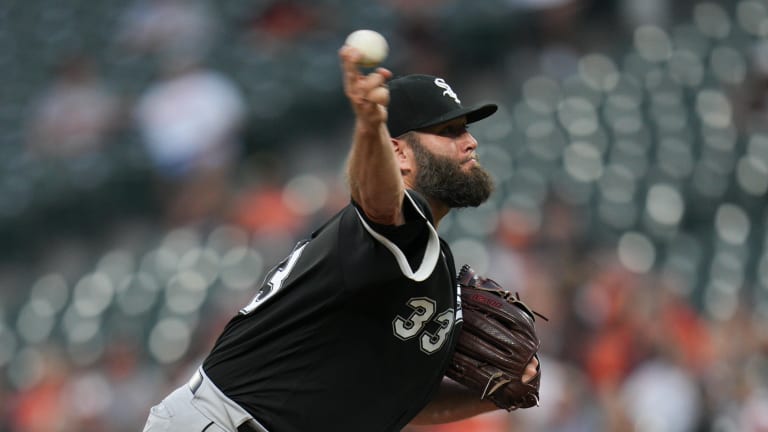 How Pitch Mix Changes Are Helping Lance Lynn Return to Form
Has a slight change in Lance Lynn's pitch mix been responsible for an uptick in the veteran's performance?
Lance Lynn has endured a very uneven season for the 2022 Chicago White Sox. The 35-year-old veteran sustained a knee injury late in Spring Training that necessitated surgery. As a result, he was on the shelf until mid-June. He struggled upon returning to action, leading to questions about how quickly he came back and whether the decline phase was in full effect.
On the season, Lynn has made 15 starts and owns a 4.70 ERA and 4.14 FIP across 84.1 innings. On the surface, this looks like nothing more than an aging starter that is being relegated to the back end of the rotation for a team that fancied itself a World Series contender coming into the season. Lynn looked like anything but the Cy Young Award finalist he was in 2021 during the first nine starts of his season.
But has something changed in the last six starts for the big boy that could signal a bit of a re-emergence?
Mixing It Up
During his first nine starts of the season, Lance Lynn pitched to a dreadful 6.42 ERA and 4.69 FIP with a gut-wrenching 1.89 HR/9. This led many to question if father time was catching up to the fastball-reliant righty. Fans wondered if he could be counted on to provide quality innings for a team that dug itself a tremendous hole during the season's first half.
But since his start against the Royals on Aug. 3, there's been a noticeable shift in his pitch mix that has led to some encouraging results.
Lance Lynn Pitch Mix 

Data via BaseballSavant.com

| | 4-Seam Fastball | Cutter | Sinker | Slider | Curve | Changeup |
| --- | --- | --- | --- | --- | --- | --- |
| 6/13 - 8/2 | 41.6% | 20.2% | 18.0% | 8.6% | 6.4% | 5.7% |
| 8/3 - Today | 47.7% | 27.1% | 10.3% | 0.7% | 10.8% | 3.3% |
There are some interesting trends of note among Lynn's pitch mix data. First, I think there is some crossover in the percentages between the cutter and slider. Given the low variance in the velocity and movement between the two, I think the numbers are blending together. The most significant shift to me is in regards to his declined usage of his sinker and changeups. That decline is for good reason.
Across all his starts in 2022, Lynn's sinker has a .421 wOBA against, compared to a .311 mark just a year ago. At the same time, his changeup has been one of the worst pitches in baseball yielding a .591 wOBA against, which is an outstanding .400 point increase over its mark from a year ago. Lynn's decision, presumably under the guidance of Ethan Katz and the Sox analytics team (yes, they exist), to eliminate his two least effective pitches has paid dividends over the last month.
Hammer Time
At the same time, while he is using the sinker and changeup less, Lynn is incorporating his curveball more. This was something I was advocating for during the heart of his struggles this season.
Since that Aug. 3 start against Kansas City, Lynn is using his curveball 4.4% more frequently than he did to start the year and the results have been stellar. The pitch is yielding a meager .200 wOBA against.
I don't think it's a coincidence that the increased curveball utilization is helping his most commonly used pitch, the four-seam fastball, play up a little more. The change in eye levels has given opposing hitters something different to think about when stepping into the box against Lynn, along with the disparity in velocity between the two. There is an 11 MPH variance between the two pitches and it is helping to upset the timing of hitters, in my opinion.
Since Lynn upped his curveball usage concurrent to the decline in his sinker and changeup usage, the performance against his four-seam fastball has improved substantially. There has been a 60-point drop in his wOBA against his four-seam fastball in the last month. Given how frequently he utilizes the pitch, it is certainly worth noting that he is getting better results since he scaled back the use of the sinker and changeup.  
Sustainable Change?
I understand we are only talking about a six-start stretch during which Lance Lynn has altered the manner in which he is attacking opposing hitters. And granted, three of these starts were against the lowly Royals with another against the anemic Detroit Tigers.
Lynn will face a much more rigorous test Monday against the postseason-bound Seattle Mariners. It will be worth watching how he goes about attacking an offense that is on a seven-game winning streak.
Veteran pitchers can be stubborn in altering how they go about their business. For a pitcher that has been around as long, and pitched as successfully as Lance Lynn, change can sometimes be difficult to implement. Perhaps in an effort to extend his longevity and maintain his position as a fixture in the White Sox' rotation, Lynn recognized his need for change.
It goes without saying that the Chicago White Sox needed Lance Lynn to get back to his successful ways if they are to overcome their AL Central deficit and get back into the postseason. The last month has certainly been an encouraging sign, and if Lynn is able to keep this going over the season's final month, this team will be better positioned to overcome said deficit.