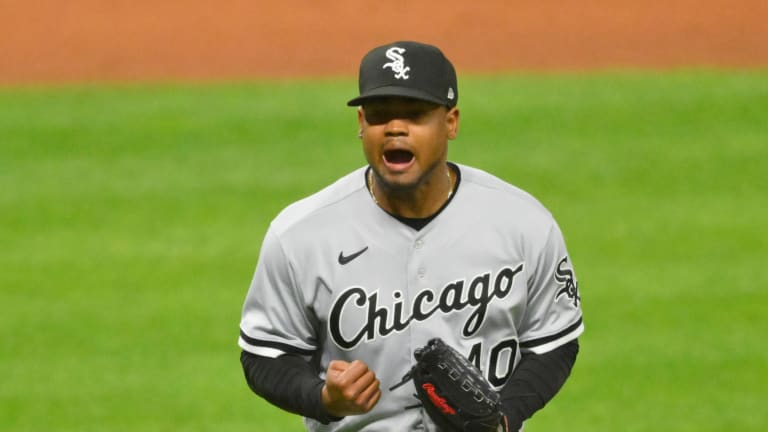 Long-Term Relief: Reynaldo Lopez
Reynaldo Lopez's breakout 2022 season, leaves him primed to secure a contract extension and become a foundational piece of the White Sox bullpen into the future.
The White Sox "super pen" has been a hot topic for the last two years. Largely due to the fact that the team has allocated more funds to it than any other club in baseball. According to Fangraphs, the team has produced the second-highest WAR amongst their relief corps in the sport the last two seasons at 13.2 fWAR.   
On paper, the results have been good, despite some notable blowups and rough stretches that have led many within the fanbase to voice their displeasure. I've talked early and often about my disdain for the resource allocation being so high towards the bullpen with this team, a problem that stretches back well over 15 years now. This team simply cannot help itself from throwing money at the bullpen in the open market, unlike any other area on the roster.
I've often wondered if this was an edict from ownership because aside from Liam Hendriks, you typically don't have to spend more than $10M annually on relievers. Perhaps the AAV sticker price is more palatable to Jerry Reinsdorf than say $25-$30M annually for a game-changing position player.  
One thing of interest with the White Sox current relief corps is that none of the arms in the current group are guaranteed to be under contract past 2024. It stands to reason that there will be a shuffling of the deck with the bullpen in the next two years. Especially when you consider the contractual status of the following:
Liam Hendricks: signed thru 2023, with a guaranteed $15M option for 2024
Kendall Graveman: signed thru 2024
Joe Kelly: signed thru 2023 w/club option for 2024
Aaron Bummer: signed thru 2024 w/club options for 2025 and 2026
Jake Diekman: signed thru 2023 w/club option for 2024
The list includes essentially all of the significant relievers on the roster, minus one important name. Reynaldo Lopez is the last piece of the bullpen puzzle and he is entering his final season of arbitration before he is scheduled to hit free agency this coming winter. Lopez made $2.625M in 2022 and Cot's Contracts projects (which isn't an exact science) his 2023 salary to be somewhere in the neighborhood of $3.6M.  
I am of the belief that it would behoove the White Sox and Rick Hahn to get out their famed contract extension machine and ensure that Lopez is kept in the fold for a few years to come. With a potential shakeup in the bullpen looming, Lopez has the opportunity to build off his strong initial foray into relief pitching last season and become a mainstay of the bullpen for years to come.
Re-Imagined ReyLo
2022 was a banner year for Reynaldo Lopez. His first full season as a reliever saw him post career bests in K/9, BB/9, HR/9 (second best in all of baseball for pitchers with at least 60 IP), FIP, xFIP, wOBA (top 7% in the league), and xwoBA. So, you could say Reynaldo Lopez was pretty good in 2022.  
As I opined last July, Lopez's newfound success could be attributed to a few factors.  First, he was an uptick in velocity on all of his pitch offerings. Playing off of his enhanced velocity, he tweaked his pitch usage to showcase his slider/curveball more frequently than at any point in his career. Only his injury-shortened 2020 season saw him throw his fastball less than he did in 2022, so it appears that Ethan Katz identified an issue for the 29-year-old Dominican and got the buy-in from Lopez to not be so reliant on his fastball, while almost scrapping the change-up entirely in favor of more effective breaking pitch options.  
The results, as noted above, worked phenomenally for ReyLo.  He threw more strikes than at any point in his career and induced weaker contact than ever before.  Those are important traits for relievers in today's game.  In light of the terrible news of Liam Hendriks being diagnosed with Non-Hodgkins lymphoma, Lopez now will have an enhanced role in the 2023 White Sox bullpen.
Back in July, I compared Lopez's career trajectory to that of former failed starter turned high-leverage reliever, Wade Davis. The unfortunate subtraction of Hendriks from the Sox bullpen will only expedite the necessity for Lopez to see higher leverage opportunities. This will serve as a major stepping stone for Lopez, who I posited has the makings of a future closer.
Given the state of flux, the team's bullpen could be in over the next two seasons, keeping Lopez in the fold long-term would be a wise decision. This is a pitcher that the team nurtured through the final stages of his development, despite having some big-league experience prior to his arrival in 2017. Knowing Lopez since his early days in the big leagues and the maturation he has gone through in recent years should give this team comfort in committing to him over the next several seasons.
Reynaldo Lopez the reliever isn't a finished product quite yet. There is still room for growth. Ideally, you would like him to continue missing more bats this season and perhaps another year under the watchful eye of Ethan Katz with his redefined pitching arsenal will yield those results. If Lopez can continue to see improvements in 2023, it is very well within reason that he could be ready to assume a closer's role when Liam Hendriks and Kendall Gravemen are no longer fixtures in the Sox bullpen, whenever that time comes. 
The price for relievers, particularly, back-end ones continues to escalate in free agency.  The White Sox are a major culprit of this league-wide issue, so getting out in front of the situation with a player that they were able to turn around in 2022 would be a major win for the organization. If they can secure Reynaldo Lopez's services for a few additional seasons now, they could save themselves significant dollars should he repeat his strong performance from a year ago.
Sure, there is risk involved with a player entering his walk year especially after, arguably, his best season. However, signing Lopez now could allow Rick Hahn and the rest of the Sox front office to allocate their funds more efficiently across the roster in years to come.  
I'm a believer in Reynaldo Lopez the reliever. I stand by my position that he has the makings of a future closer. He's going to have an enhanced role at least to start the 2023 season now and should he shine in even more high-leverage roles his price will only go up from here. The Chicago White Sox getting out of in front of this situation and ensuring that they have a known quantity for years to come would just be good business.