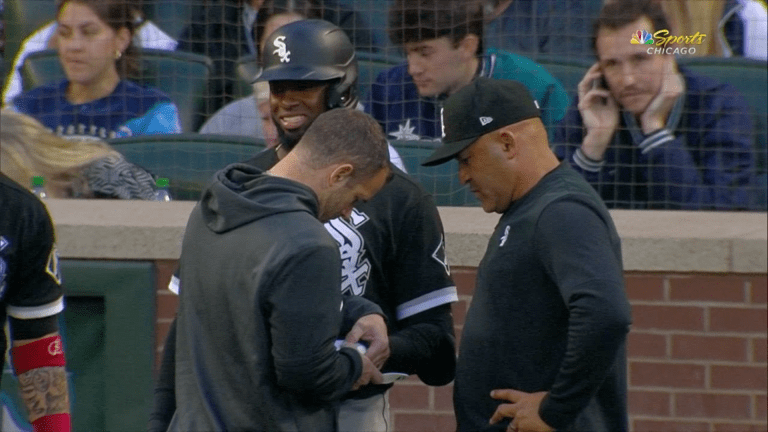 Luis Robert Exits White Sox Game Early After Yet Another 1-Handed Swing
It would probably be in the White Sox' best interest to consider an injured list stint for Robert.
Luis Robert's wrist clearly still isn't right. The Chicago White Sox' centerfielder exited early from Tuesday's game after showing it once again.
Robert started the game batting seventh and playing center field. During his first at-bat in the second inning, he turned into a pitch that appeared to strike him in the left hand. After trainers attended to him, Robert finished that at-bat by striking out looking.
The 25-year-old struck out again in the fifth inning, but it was of the swinging variety that time around. It was an ugly occurrence as Robert followed through his swing with only one hand on the bat.
When the White Sox took the field in the bottom of the fifth, Adam Engel replaced Robert in center field.
What's Wrong With Luis Robert?
Unfortunately for the Chicago White Sox, that visual has been a recurring theme ever since Luis Robert injured his wrist sliding into second base during a game on Aug. 12.
Despite his apparent wrist pain, the Sox have yet to place Robert on the injured list. The club did hold him out of the starting lineup for a while following the initial injury. Additionally, he went on the Paternity List last week while he was away from the team to welcome a new child.
But the time away clearly has not allowed for an adequate recovery. Even with the AL Central race heating up, it would probably be in the White Sox' best interest to consider an injured list stint. Robert clearly cannot contribute as effectively as expected at the plate, as evidenced by his .231/.286/.346 slash line (entering Tuesday) since sustaining the injury.
UPDATE - 9/6/22, 10:40 PM CT: The Chicago White Sox said Luis Robert exited Tuesday's game due to a bruised left hand. X-rays came back negative and he is day-to-day.