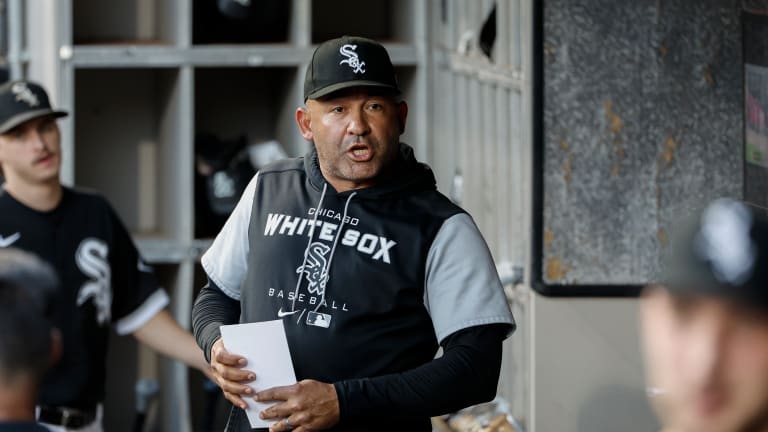 Show Up or Ship Out: The Crux of Miguel Cairo's Message to White Sox
Cairo has his club fired up thanks to an emphatic message he delivered upon taking over as White Sox' acting manager.
Upon taking over the Chicago White Sox' acting manager role, Miguel Cairo delivered a fiery message to the clubhouse.
"He told us pretty much, 'If you don't want to be here, then get the (expletive) out,'" Liam Hendriks told Bob Nightengale of USA TODAY Sports.
Nightengale reported a collection of eye-opening takeaways from various members of the Sox' organization. But Hendriks' response essentially sums up the message that has led to a White Sox' surge under Cairo.
"There needs to be repercussions. There needs to be some kind of a risk and reward. That was one thing that reverberated with some guys," Hendriks continued.
Cairo's Club Until Further Notice
Since Miguel Cairo took over as acting manager on Aug. 30, the White Sox have a 9-4 record. A 5-2 West Coast road trip helped the South Siders overtake sole possession of second place in the AL Central. However, they still trail the division-leading Guardians by three games.
As the chase continues, Cairo will continue to guide the ship. Tony La Russa attended Sunday's game in Oakland and flew back to Chicago with the team, but his doctors have not cleared him to return to managing.
Given the players' responses, both on the field and to Nightengale, they're embracing the moment thanks to the urgency infused by Cairo.
"We didn't have that fight earlier. We didn't have that drive. We didn't have that hunger. Now, that has all changed. Destiny is in our hands," Hendriks added.
And Cairo will continue instilling his ultimatum of sorts to motivate the club.
"If you want to play, play. If you don't want to play, sit down and let someone else play," the bench-coach-turned-acting-manager said.
"No one wants to sit these days. They've been arriving early to the ballpark. Staying late after games. Yelling at one another. Encouraging each other. Praying their resurgence isn't too late."
Could it be too little, too late? Perhaps. But the Chicago White Sox will continue living on a prayer – and Cairo's energy – for the time being.