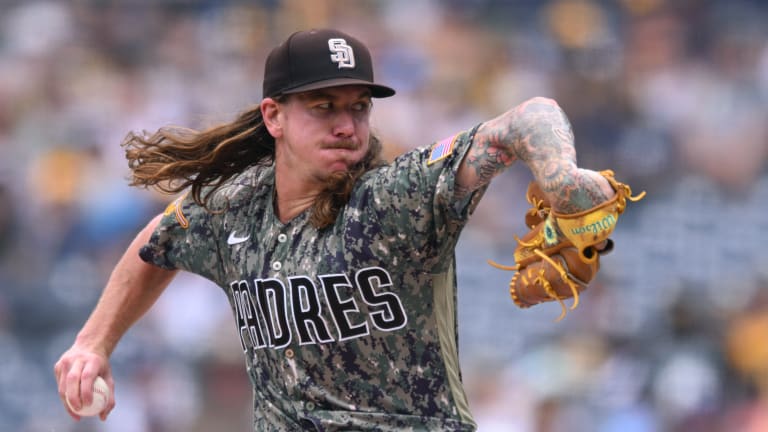 Can Pitch Mix Changes Help the White Sox Fix Mike Clevinger?
After joining the White Sox, is a change in pitch mix the answer to rebuilding Mike Clevinger?
We've all heard it bandied about on social media in the last few days among Chicago White Sox fans. "Just get Clevinger into the Katz Lab." The notion floating around these parts is that pitching coach Ethan Katz will be a miracle worker in restoring Mike Clevinger to the dominant levels we saw from the long-haired righty while pitching for the division-rival Indians.
On a recent episode of Sox On Tap, I posited that we fans need to exercise caution with this mindset. I think Ethan Katz has had some notable success stories since joining the organization (Carlos Rodon's emergence, and the development of Dylan Cease along with Reynaldo Lopez), but there isn't enough of a body of work to outright assume he can fix everyone.
With all of that being said, Clevinger is the type of gamble we knew the White Sox would take this winter when trying to fill out their rotation heading into 2023. It is the type of high-risk/high-reward player that a middling team like the Sox will take instead of breaking the bank for a proven commodity. So, can Clevinger get close to the level of dominance we saw from him while he was giving the Sox fits in a Cleveland uniform, or should they be resigned to the fact that he is a back-end starter at this point?
Noticeable Shift
Beginning with the 2018 season, Clevinger became one of the top pitchers in the American League. He put up back-to-back 4 fWAR seasons with the rival Indians and looked destined for stardom. However, a series of events turned Clevinger's trajectory following the 2019 season. He broke COVID protocols, infuriating his teammates in Cleveland, which eventually led to his trade to San Diego. Shortly after that, he blew out his UCL for a second time requiring Tommy John surgery.
Following the trade to the Padres in 2020 and in his first season back this past year, Clevinger looked like a different pitcher. There was a glaring change in his pitch mix:
| | 4 Seam | Slider | Curve | Change | Sinker | Cutter |
| --- | --- | --- | --- | --- | --- | --- |
| 2018 | 52.9% | 21.1% | 11.8% | 14.1% | - | - |
| 2019 | 51.1% | 25.5% | 12.1% | 11.4% | - | - |
| 2020 | 39.9% | 32.4% | 12.5% | 8.3% | - | 6.9% |
| 2022 | 36.7% | 20.6% | 3,4% | 9.7% | 15.0% | 14.6% |
During Clevinger's final two years in Cleveland, he was a predominantly four-seam fastball/slider pitcher for roughly 3/4 of his offerings. In the 2019 season, he saw his average fastball velocity peak at 95.4 MPH. That figure dropped almost a full 2 MPH in 2022, which perhaps led to the reincorporation of a sinker that he abandoned following the 2017 season. He also increasingly relied on a cutter that was developed upon his arrival in San Diego.
Clevinger is still throwing the four-seam fastball more than any other offering, however, its usage declined to a career-low 36.7% in 2022, and with good reason. Statistically, it was his least effective pitch this past season, as hitters were teeing off on it with regularity. Looking at his career numbers, the four-seamer has never been a particularly strong offering from the big righty aside from his 2019 season when his velocity peaked, as mentioned above.
| 4 Seam | wOBA | xwOBA |
| --- | --- | --- |
| 2018 | .353 | .345 |
| 2019 | .268 | .285 |
| 2020 | .341 | .402 |
| 2022 | .356 | .388 |
A Familiar Change
It's clear looking at the data above that the four-seam fastball has been a problematic pitch for Mike Clevinger. So does it make sense for him to utilize it less frequently? I would argue, yes. We've already seen pitching coach Ethan Katz take one struggling White Sox pitcher and have him utilize his breaking pitches more frequently leading to improved results. You may know him as 2022 AL Cy Young Award runner-up, Dylan Cease.
Looking at Clevinger's career, his breaking offerings have been well above-average pitches in terms of effectiveness. The slider, in particular, has been his best offering:
| Slider | wOBA | xwOBA |
| --- | --- | --- |
| 2018 | .209 | .202 |
| 2019 | .216 | .217 |
| 2020 | .234 | .257 |
| 2022 | .309 | .266 |
The numbers for Clevinger's slider are pretty telling. Aside from some seemingly bad luck in 2020 when comparing his wOBA and xwOBA figures, that pitch has been dominant. Highlighting the slide piece as the premier weapon in his arsenal could be the right move for a pitcher that has seen a decline in fastball velocity due to a second Tommy John surgery.
Given the slider's excellent results, perhaps pairing a second breaking offering with a different shape could help to mitigate the issues that come with his fastball usage. Historically, the curveball has been a plus pitch for Clevinger from a results standpoint, aside from the shortened 2020 season. This offering has been used about half as frequently as his slider, so would upping that usage a bit lead to better overall results?
| Curve | wOBA | xwOBA |
| --- | --- | --- |
| 2018 | .162 | .173 |
| 2019 | .269 | .247 |
| 2020 | .397 | .344 |
| 2022 | .276 | .238 |
Clevinger's curve has also been a deadly weapon for the big righty looking at the above data. Utilizing backwards pitch sequencing focusing on these two breaking balls could be the type of change that allows Clevinger to re-emerge as an All-Star-caliber pitcher.
Blueprint in Place?
No one can say with any level of certainty that changing his approach is the end-all-be-all solution to what has ailed Mike Clevinger since leaving Cleveland. We do know that a more breaking ball-centric approach has paid significant dividends for his new teammate, Dylan Cease.
Thus, Ethan Katz has a blueprint that he can look at if this is the path that is to be taken. I'm sure the "Katz Lab" is open and concocting some type of remedy to get their newly acquired starter back on track to where he was just a few seasons ago.
If this approach is implemented and it does have positive effects on Clevinger's performance, the Chicago White Sox may have been able to get the steal of the offseason. A healthy and effective Clevinger would go a long way to providing the Sox stability in a starting rotation that isn't short on question marks heading into the 2023 season. Only time will tell if this is the type of change that will take place when the team reports to Glendale in just over two and a half months.