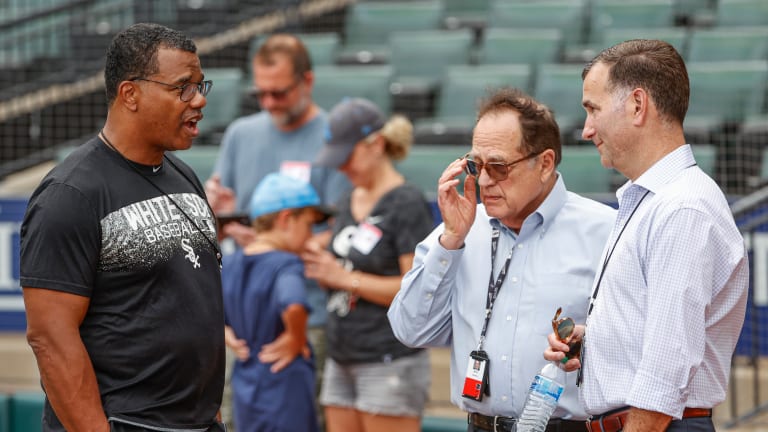 White Sox Winter Meetings Preview: Expect Nothing
As MLB Winter Meetings begin, there is a general sense of apathy within the White Sox fan base.
MLB's annual Winter Meetings kick off Sunday at the Manchester Grand Hyatt hotel in San Diego and run through Wednesday. This is a four-day stretch where fan bases typically get a little bit of baseball excitement as the dark, cold feelings of winter begin to settle in across the nation. The hot stove seems like it will be turned up this year, as there is a general sense of excitement that there could be a flurry of activity.
Premium free agents such as Aaron Judge, Carlos Correa, Justin Verlander, and others are all available on the open market and looking to receive top dollar for their services. Industry belief is that we will also see a flurry of trade activity as teams look to shuffle the deck and move along in their competitive cycles.
That excitement is felt across most of baseball's 30 teams, but the White Sox' fan base is one notable exception. General feelings of apathy and discontent have gripped even the most ardent supporters of this team. For a club that is supposedly in the midst of its "championship window," there is little optimism that much will be done to shift the trajectory for the 2023 season in the coming days.
Not Falling For It
Perhaps the greatest lie ever told to White Sox fans was six years ago when this team began its full-scale deconstruction by dealing Chris Sale and Adam Eaton at the Winter Meetings. It began a chain of events that saw the team strip the roster down of any meaningful parts in favor of hope and prospects that, in all reality, haven't delivered on their promise.
We were sold a bill of goods by media mouthpiece Rick Hahn and EVP Ken Williams that this was going to lead to a period of sustained success that would allow the team to compete for, wait for it, multiple championships. We were also told that when the time was right, the Sox would be well positioned with their newfound "financial flexibility" to finish off a roster with premium talent from outside the organization.
Fast forward two years to the 2018 Winter Meetings when the Twitter world was abuzz with rumors and innuendo about the South Siders' attempts to bring in generational talents Manny Machado and Bryce Harper. We all know how the story played out in the end. Neither player ended up coming to 35th/Shields despite one seemingly wanting to do so.
In the end, Jerry Reinsdorf couldn't bring himself to part with more of his wealth that he will never see to bring in a player that could've helped the franchise become a more national brand and blossom into a consistent winner. It was in that moment when many White Sox fans realized it was all a charade. There were those of us that were skeptical but wanted to believe, only to have our greatest fears realized.
This team was not serious about building a sustained winner at all costs. The White Sox were relying on hope and good fortune to build success, not preemptively making it happen. That's the most glaring difference between the Jerry Reinsdorf-led club and serious organizations like the Astros, Dodgers, Braves, Phillies, and other viable contenders. Those teams are focused this week on making bold moves to improve their fortunes. Meanwhile, the White Sox are merely hoping for a dead cat bounce.
Coupon Shopping
Some of the serious contenders mentioned above will make major signings this week. We're hearing rumblings of Trea Turner heading to the NL champion Phillies, who are looking to build off their improbable run to the pennant in 2022. Speculation is rampant that after losing Jacob deGrom, the Mets will turn their attention to future Hall of Famer Justin Verlander while facing stiff competition from the Dodgers and his most recent club, the World Series champion Astros.
What are the Chicago White Sox doing in an effort to rebound from one of the most disappointing seasons in the sport this past year, you ask? Well, they are hoping for a reclamation project in Mike Clevinger. Our Sox are not mentioned as a viable suitor for any major difference-makers, and that is disheartening to say the least.
We've all seen this song and dance too often. The team has clearly visible needs — left-handed hitting balance, second base, corner outfield, and catcher — so they will go to the discount store with their coupons in hopes of getting a deal on something that maybe, just maybe, will work out instead of opting for more certainty. This isn't how serious organizations in their competitive windows operate, but this is the life we've chosen as White Sox fans.
It's because we've seen this movie far too often that there is little to no buzz within the fan base about this upcoming week's activities. Sure, maybe we'll get a minor signing or trade, but there won't be anything that will wake you up in the morning thinking that the Sox are closer to catching up to Cleveland. It shouldn't be like this, but here we are.
Compare and Contrast
I wonder what it's like to be a fan of a team like the Astros, Dodgers, Braves, Mariners, or Yankees where you have real hope and belief that your team will get closer to winning a championship when the Winter Meetings conclude. Many of us have fallen for this act in the past, but not again.
The three stooges that make the roster decisions for the White Sox have done nothing to deserve the benefit of the doubt. I'll still be glued to MLB Network and social media to see the moves coming in and the instant reaction to them. I just wish that we White Sox fans would be able to join in on the fun. Instead, I expect us to end up with coal in our stockings once again this holiday season.