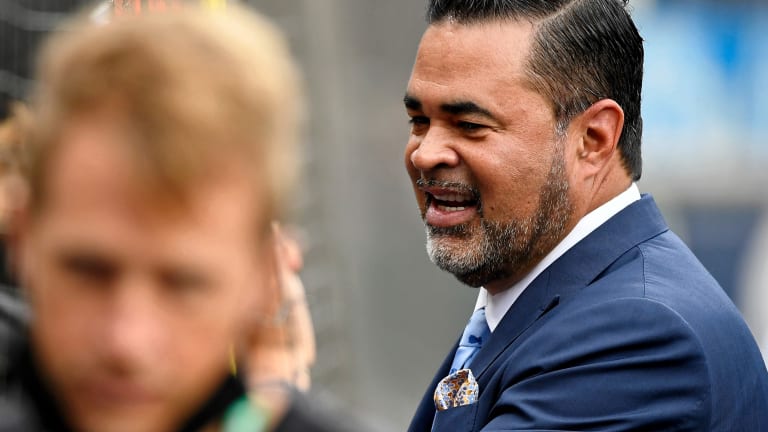 Reports: White Sox to Interview Ozzie Guillen
Reports indicate Ozzie Guillen will interview with the White Sox next week.
Editor's Note: A previous version of this article indicated the Chicago White Sox had already interviewed Ozzie Guillen. New reports, as identified below, indicate the White Sox have not interviewed Guillen yet but plan to next week.
The Chicago White Sox managerial search has seen a few twists and turns in the early going. Many candidates have been rumored and a few have been interviewed. Earlier today, one of the candidates initially considered to be a favorite for the White Sox' position came off the board when the Texas Rangers signed former Giants' skipper Bruce Bochy to a three-year deal.
However, another rumored candidate who has been out of the dugout for a while has emerged. According to reports from NBC Sports Chicago and Bruce Levine of 670 The Score, the White Sox will interview Ozzie Guillen next week.
The White Sox are no stranger to hiring former players; Guillen was one of them in his first stint as manager. Additionally, the Sox brought in Robin Ventura to replace Guillen and most recently convinced Tony La Russa to un-retire and manage the team. Ventura was hired with no managerial experience at any level.
The tenures of Ventura and La Russa were nothing short of disappointments, but they may have set a precedent. The White Sox are loyal to former players and managers. Hiring Guillen would certainly raise some eyebrows, but it would be on brand considering the team's history.
Guillen's former second baseman from the 2005 World Series champion team, Willie Harris, recently stated his interest in the White Sox job. He interviewed for the vacancy in 2020 before La Russa was hired. Harris is considered a strong candidate but he admitted he has not been contacted at this time.
However, he did have an interesting reply to a question about potentially coming back as Guillen's bench coach.
Could Ozzie Guillen Actually Return as White Sox Manager?
Ozzie Guillen also emphasized his qualifications for the job at the end of the season. He was blunt, as usual, about why he would be the best fit for the White Sox. Guillen added that he has no plans to manage at this time, though his reported upcoming interview has likely changed things.
Now that one of MLB's managerial vacancies has been filled, things should start to heat up for the Chicago White Sox. Guillen entering the running for the White Sox doesn't come as a surprise given the club's hiring history.
He has watched this White Sox team develop during his time as an analyst at NBC Sports Chicago. That tribal knowledge and his fiery style of leadership may be exactly what Chicago needs.