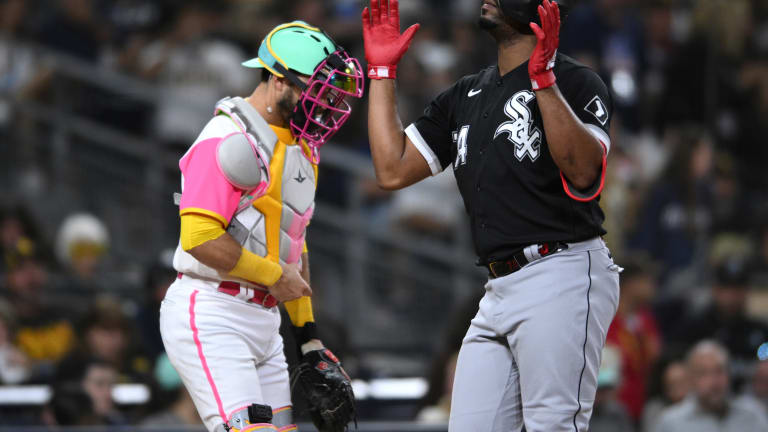 White Sox Win Series Opener in San Diego; Padres Magic Number Remains at 3
The White Sox picked up their second straight win while handing the Padres their third straight loss.
The San Diego Padres pushed back Yu Darvish's start by a day to provide him an extra day of rest for the playoffs. They may have gotten ahead of themselves a bit, however, as the Chicago White Sox jumped on their ace early en route to a 3-1 win on Friday.
San Diego's magic number to clinch a wild card berth remains at three after Milwaukee's win. Darvish allowed three runs on eight hits in his six innings. He fanned six and issued one free pass.
"Not my best," Darvish said. I don't think I was at my best obviously, but just managed to get six innings, so I think that part is a plus."
His downfall came in the fourth inning compliments of an Eloy Jimenez homer to get the Sox on the board. Yoan Moncada then drove in Gavin Sheets, who doubled after the Jimenez homer.
The Pale Hose added their third run in the sixth when Andrew Vaughn's single plated Moncada. The Sox' third baseman had reached second on a one-out double, his third hit of the night.
A Bright Spot in a Bad Year
Rookie right-hander Davis Martin continued his admirable season with another stellar outing. Martin lasted 5.2 innings, allowing just one run on six hits. He recorded a career-high eight strikeouts and issued no walks.
"It's the games you want to pitch in. It's the games that are most fun. Walking out and kind of looking around, did a little 360 real quick, you realize this is as close to playoff baseball as we are going to find. It was a blast, a lot of fun."
Aaron Bummer struck out Juan Soto – after he narrowly missed a homer – with two runners on in the seventh to get Kendall Graveman out of a jam. Jimmy Lambert pitched a scoreless eighth for the Sox. Liam Hendriks sent the Padres down in order in the ninth for the save. White Sox' pitching had 15 strikeouts in the contest.
News and Notes
Sept. 30 marked the 14th anniversary of the 2008 Blackout Game. The White Sox earned a division title with a 1-0 victory in a one-game playoff against Minnesota at home.
The White Sox are 78-79 and need to win four out of their last five games to finish above .500.
What's On Tap Next?
The Chicago White Sox will look to slow down the San Diego Padres' playoff march with ace Dylan Cease on the hill Saturday. The Padres will counter with former Cleveland pitcher Mike Clevinger. NBC Sports Chicago will air the game beginning at 7:40 PM CT.
Tune in to the Sox On Tap podcast for postgame reaction and further White Sox commentary all season.