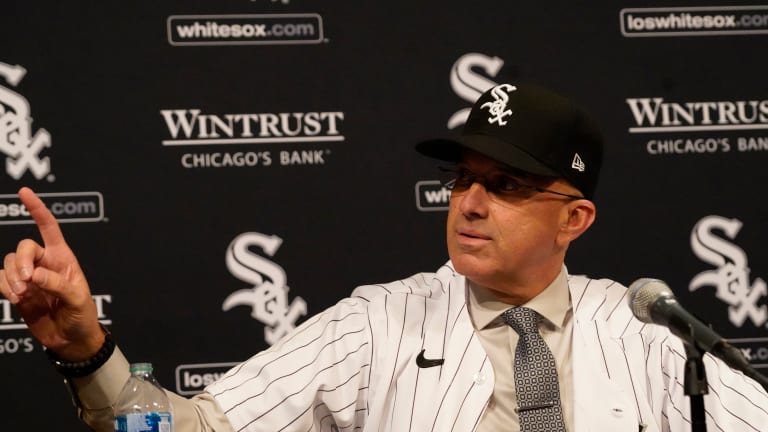 New White Sox Manager Pedro Grifol's Biggest Challenge: Converting Words to Action
Getting the White Sox to play with "passion" and "pride" on a consistent basis will be a tall task.
The Chicago White Sox finally have their new manager. Pedro Grifol, former Kansas City Royals bench coach, introduced himself to the South Side on Tuesday and said all the right things. Words are all he can offer until the team convenes for camp in February, but the application of his messaging will ultimately determine how he and the White Sox fare in 2023 and beyond.
"We will play with passion, pride for this uniform. This means something," Grifol said in his opening remarks while tugging on his new White Sox jersey.
Echoing the "Passion. Pride. Tradition." moniker that graces various White Sox marketing endeavors is a good way for a newcomer to align himself with the uber-passionate fan base. But after a lethargic 2022 season, getting the White Sox players to buy in seems to be a tall task.
"Raising the energy level every single day is very important," Grifol added. "We are going to work hard and we are going to be prepared to play."
Again, the new skipper's messaging is encouraging, but it must translate on the field. And the above statement may be the toughest of all to implement. A 162-game schedule is a grind, and the grueling factors that it entails can chip away at a group's psyche.
Can Pedro Grifol Keep the White Sox Locked In?
In 2022, the Chicago White Sox were plagued with injuries and constant struggles that seemed to manifest in apathy on the field. Amidst a chase for the division in mid-to-late-August when the intensity should have ramped up, the Sox endured a devastating 2-10 stretch. It didn't mathematically take them out of the race, but it surely damaged clubhouse morale.
While they did rebound with a 13-5 stretch that coincided with Miguel Cairo taking over as acting manager when Tony La Russa exited the dugout due to a health issue, the luster wore off at a crucial juncture. With a chance to gain significant ground and a tiebreaker over the Cleveland Guardians in mid-September, the White Sox folded and endured an eight-game losing streak.
Of course, results under La Russa and Cairo don't reflect Pedro Grifol in any way. But the White Sox roster, which will not undergo "drastic, wholesale" changes according to Rick Hahn, will look largely the same.
Getting those players to "come to play every single night" — and do so with "passion" and "pride" — will be a challenge, and some factors will be out of Grifol's control.
When the dog days of summer 2023 creep in, how will the White Sox respond? Can Grifol elicit the most out of his new club, even when injuries inevitably pile up? Will the South Siders be able to draw from within to navigate losses and the adversity that comes with them?
Only time, action, and results will provide the answers to those questions. Fair or not to Pedro Grifol, the timer on the White Sox competitive window is ticking down, and he is now responsible for making sure it doesn't slam shut unceremoniously.