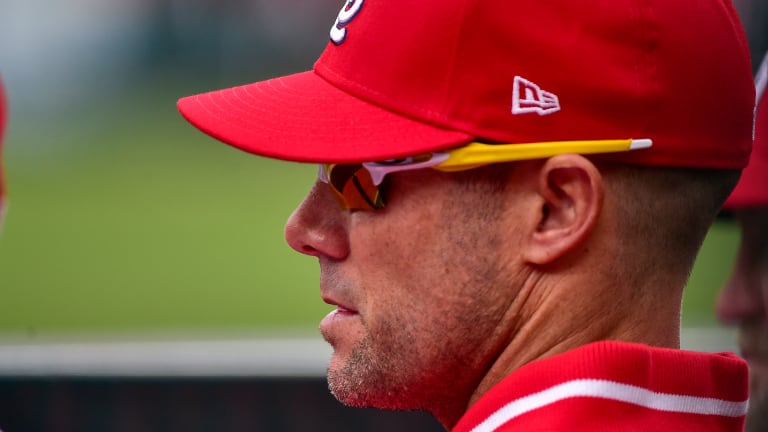 Another MLB Manager Domino Falls as Marlins Hire Skip Schumaker
The Marlins have hired Skip Schumaker, leaving only the Royals and White Sox with managerial vacancies.
The Chicago White Sox, Kansas Royals, and Miami Marlins were the final three MLB teams with managerial vacancies. That all changed Tuesday afternoon when the Marlins announced the hiring of Skip Schumaker to be their new manager. Schumaker replaces Don Mattingly, who was fired after seven seasons as manager.
Schumaker, a former outfielder and second baseman, played eight of his 11 MLB seasons with the St. Louis Cardinals. Schumaker was a member of the 2011 Cardinals that won the World Series.
After his playing days were over in 2016, Schumaker became the first base coach of the San Diego Padres and was promoted to associate manager in 2021. He spent 2022 as the bench coach of the St. Louis Cardinals. This will be the first managerial position Schumaker has held.
The Marlins finalists, reportedly, were Skip Schumaker, Rays' bench coach Matt Quatraro, Astros' bench coach Joe Espada, and Yankees' third base coach Luis Rojas.
Two of those names have been linked to the Chicago White Sox. Quatraro has been rumored and reports indicate Espada had an impressive interview with the White Sox. The other candidate to interview was Kansas City Royals' bench coach Pedro Grifol.
Where Does The White Sox Manager Search Stand?
Espada and Grifol are the only two confirmed interviews at this point. But the White Sox have been linked to a variety of former managers and current MLB coaches.
Bruce Bochy, Ron Washington, and Mike Schildt were initially considered the leading candidates, per Bob Nightengale. Interest in former manager Ozzie Guillen surfaced last week as reports of a possible interview with the Sox came to light. Most recently, the White Sox are rumored to have interest in Phillies' hitting coach Kevin Long.
Nevertheless, the Chicago White Sox seem to have their pick from a large pool of candidates. The Kansas City Royals are perennial cellar-dwellers and stand as their only competition at the moment. There have been no reports regarding finalists for the position, but a decision seems likely to happen soon.