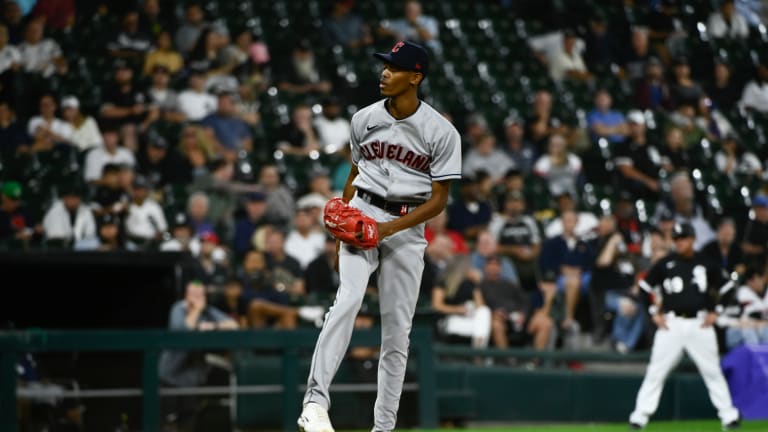 Triston McKenzie Dominates Sputtering White Sox 8-2
The White Sox shot themselves in the foot multiple times to continue their recent slide.
The Cleveland Guardians moved closer to their first AL Central title since 2018. They've won seven of their last eight and their division-clinching magic number is down to seven. The Chicago White Sox are now losers of three of their last five after an 8-2 defeat on Wednesday.
Triston McKenzie surrendered two runs on six hits in eight frames. He was one strikeout shy of his career high that he set on Aug. 19 against Chicago. He finishes the 2022 campaign 2-0 with a 2.16 ERA in four starts against the division rival.
Same Old Song and Dance
The White Sox got off to an ugly start and played the type of game we've seen far too many times in 2022. A couple of fielding gaffes committed by Yoan Moncada and Andrew Vaughn led to multiple Guardians' runs.
Moncada's throwing miscue to first base on a potential double play led to a Guardians' run in the first on an infield hit by Andres Gimenez. Josh Naylor led off the fourth with a fly ball to shallow left field. Moncada chased the ball before peeling away, and the ball caromed off the heel of Andrew Vaughn's glove and bounced away for an error. The Guardians followed with three consecutive hits and took a 5-0 lead.
"I was running behind the ball, trying to catch it," Moncada said. "But as soon as I heard (Vaughn) calling the ball, I just tried to move out of his way."
White Sox' starter Lance Lynn needed 31 pitches to get out of the first and was charged with three earned runs after allowing two runs or fewer in each of his previous seven starts.
"Nothing surprises me, especially when you play like shit all year," Lynn said. "We've been six games out all year, it seems like. We got some time left, but we put ourselves in a hole, that's for sure."
Steven Kwan had three hits off of Lynn including a leadoff solo homer in the fourth to make it 6-0. Naylor added a two-run homer in the seventh off of Jose Ruiz for his 19th long ball of the year.
Yoan Moncada led off the fourth with a home run to put the Sox on the board, but McKenzie avoided trouble until the seventh. Eloy Jimenez led off with a double and scored on Gavin Sheets' single to make it 8-2.
The Cairo White Sox
The White Sox fell to 13-8 under acting manager Miguel Cairo, who took over after Tony La Russa left temporarily for medical reasons. Cairo remained critical of his managing in Tuesday's 10-7 loss but knows he must move on.
"It was a tough night because you want to second-guess yourself," Cairo said. "I looked back, checked, and said, 'you got to move on.' You just cannot take that game and bring it to the next game."
Luis Robert didn't start and remains day-to-day, Cairo said. Tim Anderson will rejoin the Sox before the end of the season, but his daily availability is uncertain. Cairo was unsure when reliever Joe Kelly would rejoin the Sox from family medical leave. Kelly was eligible to return Wednesday.
What's On Tap Next?
Shane Bieber will start for the Cleveland Guardians against the Chicago White Sox, who will counter with Johnny Cueto. The game will air on NBC Sports Chicago at 7:10 PM CT and Sox On Tap will have the postgame show.