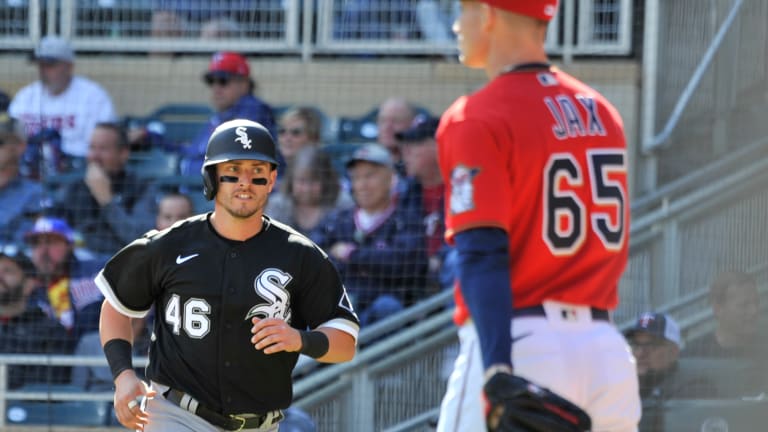 White Sox Snap 8-Game Losing Streak With 4-3 Win vs. Twins
The White Sox scratched across their first win in over a week and avoided a sweep.
It has been a long journey for the Chicago White Sox recently called up outfielder Mark Payton. Chicago is his fifth organization in five years after being selected by the Yankees in the seventh round of the 2014 MLB Draft out of the University of Texas. Payton hit .293 with 25 homers and 95 RBIs for the Triple-A Charlotte Knights before his call-up.
The local product from Orland Park, Illinois, and St. Rita High School delivered two hits and an RBI on Thursday. He provided the difference in the game in the eighth on an error with some hustle on the bases.
"Keep battling. Just put the ball in play," Payton said. "I don't like to strike out."
A Breath of Fresh Air
Payton battled in his eighth-inning 12-pitch at-bat against Caleb Thielbar that ended with a routine pop-up to second base. Nick Gordon dropped the ball and Payton, hustling out of the batter box, reached second base. He moved up on a wild pitch and Jose Abreu followed with an RBI double to deep right to put the Sox ahead 4-3.
Liam Hendriks put the Twins away in order in the ninth inning and the White Sox improved to 77-79 and one game ahead of the Twins.
"We don't want to finish below .500, so we just keep grinding and try to end on a high note," starter Lucas Giolito said.
Giolito struggled early on in this start allowing two runs on four hits in the first inning. He surrendered three walks in his final four innings, turning in a decent five-inning start. The righty wasn't great but he was effective. Overall, it has been a disappointing year for the 2019 All-Star, whose ERA reduced to 5.00 after this start. He was one of a few key players that underachieved for the 2022 White Sox.
"Everyone, their arms are a little tired, but they're still battling in there. I'm proud of the pitchers. They've been going out there and doing their jobs," acting manager Miguel Cairo said.
Both teams were mathematically eliminated from the wild card race on Wednesday with Seattle's win. The two play a three-game series next week in Chicago to wrap up the regular season. The Twins currently lead 9-7 in the season series with Chicago.
News and Notes
The eight-game losing streak matched the White Sox' season-high.
The Twins announced an attendance of 23,397 and finished their 13th year at Target Field with an official season total of 1,801,128. That's their lowest for a full schedule unaffected by the pandemic since 2001.
Yoan Moncada was on the bench for the second straight game nursing a bruised right foot. Miguel Cairo said he expects him to play again before the end of the season.
What's On Tap Next?
Davis Martin is will take the mound for the Chicago White Sox as they begin a three-game series at San Diego on Friday. He will face off against Yu Darvish of the Padres. You can catch all the action on NBC Sports Chicago at 8:40 PM CT.
Tune in to the Sox On Tap podcast for postgame reaction and further White Sox commentary all season.