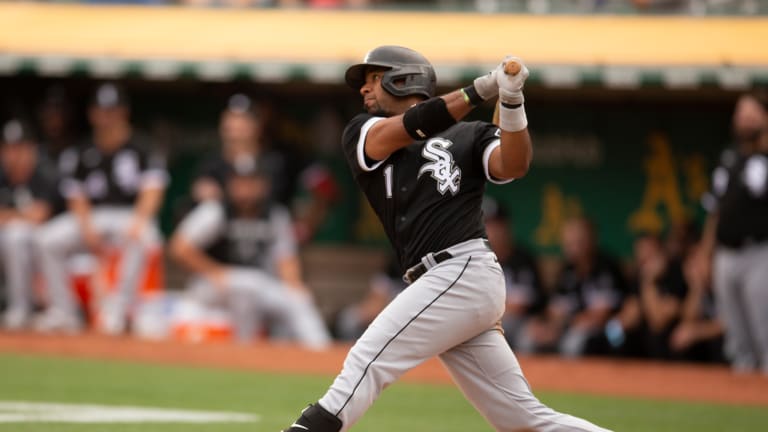 White Sox Win Fourth Straight, Look to Sweep Oakland in Sunday Finale
The White Sox continued their recent surge, routing the Athletics 10-2.
Elvis Andrus homered again and the surging Chicago White Sox won their ninth game in their last 11 after a 10-2 shellacking of the Oakland Athletics. Acting manager Miguel Cairo has filled in well for the ailing Tony La Russa. The White Sox are 9-3 under his watch and improved to 5-1 on their seven-game west coast road trip.
The Elvis and Lance Show
Andrus connected on a three-run homer in the second inning that put the Sox ahead 4-0. The South Siders did not stop the hitting, pouring on six more runs and pounding out 20 hits. AJ Pollock and Andrew Vaughn each had four hits, and Lance Lynn pitched well yet again.
It was the second homer of the series for Andrus, a day after his two-run double broke a tie in the Sox' five-run ninth inning of a 5-3 victory. Chicago signed Andrus after the A's released him in August and returned to crush his former team. He is 6-for-15 with two home runs through the first three games of the series.
"We're on a mission," Cairo said of the White Sox' recent play.
Speaking on Andrus, he added, "We have one more game (this series) and I just hope he continues doing what he's doing."
"He's a guy that I'm glad that we have. He has good at-bats, he gets us going in the leadoff spot. It's been awesome to have him."
The White Sox tagged A's starter Adrian Martinez for 14 of the 20 hits and seven runs in his 3.2 innings.
It was more than enough run support for White Sox' starter Lance Lynn. The veteran right-hander's 2022 campaign is starting to come together after a very slow start. Lynn allowed two unearned runs to cross the plate in his six-inning day. He surrendered three hits, fanned five, and issued just one free pass. The 35-year-old is 4-0 with a 1.19 ERA in his last five starts.
"I've faced him a lot and I just love how he competes, he's a savage out there," AJ Pollock said of Lynn. "It's fun to watch the guy compete. He's fun, he's fiery."
Andrew Vaughn added a two-out, two-run double to cap off a three-run rally in the fourth. The clutch hit padded the Sox' lead and put them ahead 7-0. The White Sox have combined for 38 runs in their last four games.
"I think it's just a boost in confidence," Vaughn said. "Hitting is contagious and I think we're all feeding off that, using every game and just rolling with it."
The Formers
Andrus is one of five Sox' players to have played for Oakland. Pitchers Jake Diekman, Kendall Graveman, and Liam Hendriks also spent time with the A's. Josh Harrison is the fifth member of that group.
Tony La Russa, of course, managed the A's from 1986-1995. La Russa plans to be in attendance Sunday as Oakland will retire No. 34 in honor of Dave Stewart.
Stressful Moment
In a scene all too familiar to Sox' fans this year, it appeared Lynn may have suffered an injury early in the game. He came off the mound to cover first base on a grounder and seemed to hurt his leg in the first inning. He remained in the game and tossed six innings.
"It kind of flared up a little bit, but he continued and he was fine," Cairo said. "He's a horse."
What's On Tap Next?
Johnny Cueto will go to the bump in the series finale as the Chicago White Sox eye a sweep. Lefty Cole Irvin will take the hill for the Oakland A's. The game will air on NBC Sports Chicago at 3:07 PM CT and Sox On Tap will have the postgame show.
Tune in to the Sox On Tap podcast for postgame reaction and further White Sox commentary all season.