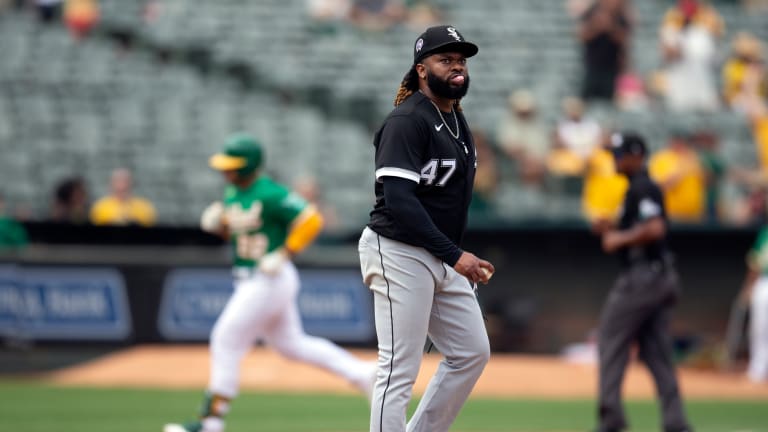 Tough Day for Johnny Cueto and White Sox' Offense Leads to Loss
The White Sox failed to complete a sweep and had their four-game winning streak snapped in a 9-3 loss.
The Chicago White Sox suffered just their third loss in the last 12 games on Sunday against the Oakland A's. Johnny Cueto allowed six runs in the fifth inning, which proved to be the difference in the series finale. The 9-3 loss snapped the White Sox' four-game winning streak.
The South Siders got on the board early game when Jose Abreu's first-inning double drove in a run. Andrew Vaughn came around to score after a one-out walk. 
AJ Pollock's sacrifice fly in the fourth inning scored Jose Abreu and gave the White Sox a 2-1 lead. However, Sox' offense mustered just three runs on four hits a day after laying 20 hits on Oakland.
Fifth Inning Mess
The fifth inning is when things came unglued for Cueto. The A's strung together five hits — three singles and two doubles — to take a 5-2 lead. Seth Brown lined out to make the second out but disaster ensued. Third baseman Leury Garcia dropped a pop fly in foul territory that would have ended the inning. Ramon Laureano added insult to injury when he capped off the inning with a two-run homer.
Cueto has been a stalwart in the Sox' rotation, but Sunday was a tough outing for the veteran. He surrendered seven runs (five earned) on eight hits with three strikeouts and issued one walk.
It was a rough day for a few White Sox' relievers as well. Jimmy Lambert allowed a solo homer to Tony Kemp in the sixth and Kendall Graveman allowed two runs in the eighth. Kemp tripled home Nick Allen and eventually scored on Vimael Machin's base hit.
Oakland starter Cole Irvin threw seven innings of four-hit ball. He allowed three runs (two earned) on four hits and issued two walks. He fanned five and earned his third consecutive win.
Dave Stewart Day
Dave Stewart became the sixth A's player to have his number retired. His No. 34 is now in the upper deck rafters alongside fellow No. 34 Rollie Fingers.
"It was a pleasure to play in Oakland for you, to grow up in Oakland for who I am what I'll always be is an Oakland native, thank you," Steward said during Sunday's festivities.
White Sox' skipper Tony La Russa, who has been away from the team for almost two weeks, attended the ceremony. He is recovering after having a pacemaker inserted in his heart. La Russa rejoined the team to be part of the ceremony for the former ace of his staff during his time in Oakland.
The Race
The White Sox lost a game in the standings due to Sunday's loss. Cleveland completed a sweep of Minnesota and remains in first place by two and a half games. Chicago began its seven-game road trip two games behind. The White Sox lost a half-game in the standings despite a solid 5-2 record on the road trip.
News and Notes
Tim Anderson will see a hand specialist Tuesday to determine when he might be able to return. Acting manager Miguel Cairo remains hopeful Anderson could return this season.
Yoan Moncada had a day off to rest as a precaution given he had played five straight since coming back from the injured list.
The A's held a moment of silence to remember Sept. 11 victims.
What On Tap Next?
The Chicago White Sox will open a two-game series at home against the Colorado Rockies after Monday's off day. Michael Kopech will take the mound for the South Siders. The game will air on NBC Sports Chicago at 7:10 PM CT and Sox On Tap will have the postgame show.
Tune in to the Sox On Tap podcast for postgame reaction and further White Sox commentary all season.