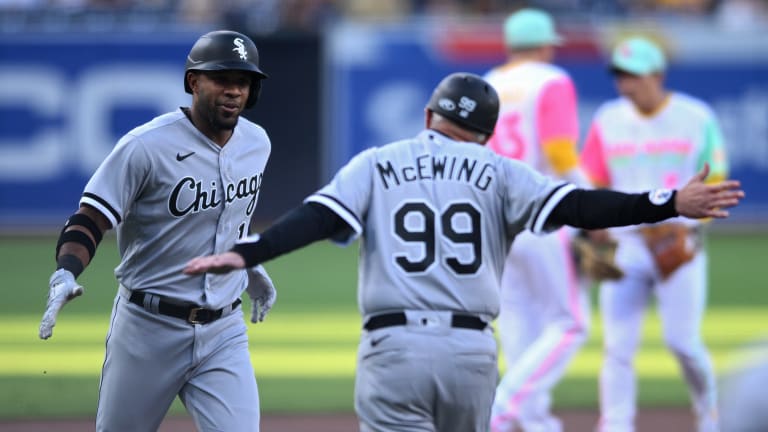 White Sox Coaching Staff Changes Expected Under Pedro Grifol
Per reports, the White Sox coaching staff is starting to take shape under presumed new manager Pedro Grifol.
The Chicago White Sox are expected to officially announce their new manager on Thursday. According to reports that surfaced Tuesday, the White Sox are hiring Kansas City Royals bench coach Pedro Grifol to replace Tony La Russa as manager. With a new incoming skipper, the coaching staff will reportedly see some changes.
Staying
Subsequent reports have followed regarding the rest of the White Sox coaching staff. A new manager is typically allowed to bring in their coaches. However, pitching coach Ethan Katz and bullpen coach Curt Hasler are expected to return in 2023, according to Bruce LeVine of 670 The Score.
Going
Also mentioned in LeVine's report, "numerous coaching changes" are coming for the Chicago White Sox. The remainder of Tony La Russa's staff included Frank Menechino, Howie Clark, Shelley Duncan, Miguel Cario, Joe McEwing, and Daryl Boston. Their tenures in Chicago are in question.
Matt Spiegel reported on 670 The Score that Boston and McEwing will not return to the White Sox. Boston and McEwing have held the positions of first and third base coach for 10 and seven seasons, respectively. McEwing specifically has drawn the ire of the fan base due to over-aggressive base-running sends.
Coming
Daryl Van Schouwen of the Chicago Sun-Times reports that former Blue Jays manager Charlie Montoyo will serve as Pedro Grifol's bench coach. Montoyo held the position with the Tampa Bay Rays prior to being hired as manager of the Blue Jays.
In 2020, he was nominated for American League Manager of the Year along with Kevin Cash of the Rays and Rick Renteria of the Sox. The award went to Cash. Montoyo was dismissed as Toronto's manager on July 13 after a slow 46-42 start.
Pedro Grifol's Guys
It appears that the Chicago White Sox are mostly cleaning house in the dugout. Ethan Katz has had some notable success with pitchers like Jimmy Lambert, Reynaldo Lopez, and Dylan Cease. It's unsurprising that he will likely return. However, the rest of the staff, specifically those responsible for baserunning and hitting, is expected to be let go.
This signals a change in direction from how the White Sox have operated with coaches in the past. Don Copper notably held the pitching coach position for parts of 18 seasons. Daryl Boston and Joe McEwing fit the same mold. The reported hiring of Charlie Montoyo indicates that the Sox' new skipper will have a big hand in picking his coaching staff.