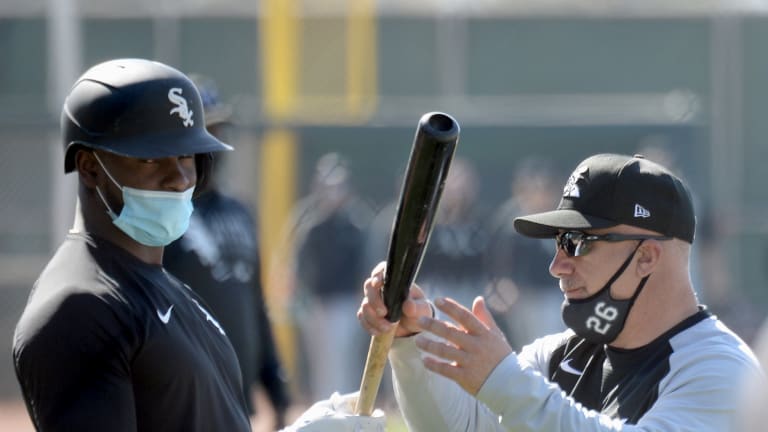 Report: Frank Menechino Out as White Sox Hitting Coach
Changes are coming under new manager Pedro Grifol.
The Chicago White Sox offense was significantly underwhelming throughout the 2022 season. A majority of the team's typical sluggers underperformed and the Sox did not score as many runs as expected. Now, it appears that hitting coach Frank Menechino will be replaced in 2023.
The White Sox have agreed to a contract with Kansas City bench coach Pedro Grifol after a month-long search. The club made the hiring official on Thursday morning.
Typically, a new manager is allowed to hire his staff, and reports have already surfaced that base coaches Daryl Boston and Joe McEwing will not return. Pitching coach Ethan Katz and bullpen coach Curt Hassler are expected to return. Additionally, Grifol will reportedly bring in former Toronto Blue Jays manager Charlie Montoyo as White Sox bench coach.
However, Frank Menechino will not return per reports from James Fegan of the Athletic. Menechino held the position under managers Rick Renteria and Tony La Russa. The Sox had some success with the 51-year-old hitting coach through his three-year tenure.
Menechino drew a lot of criticism for the White Sox' lack of power in 2022. The Pale Hose finished 19th in runs, ranked 18th with a .310 on-base percentage and a .387 slugging percentage, and drew fewer walks than every team except Detroit.
Nevertheless, Menechino, like most coaches, received more credit and blame than deserved. The Chicago White Sox posted the second-highest chase rate in 2022. The hope is that a new voice can preach a more patient plate approach to hitters.