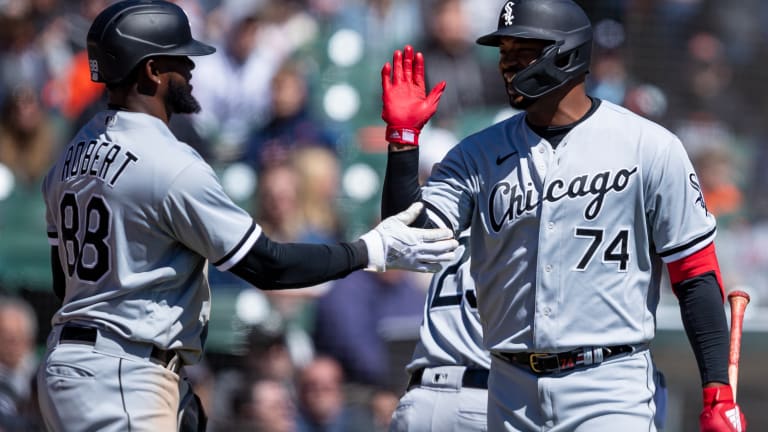 White Sox Land at 14th Overall On ESPN's Latest Power Rankings
Fresh off hiring a new manager and some offseason moves, the Chicago White Sox are 14th in ESPN's latest MLB Power Rankings.
ESPN has released its latest MLB Power Rankings. According to ESPN, the Chicago White Sox currently sit at 14th, right in the middle of the pack as we head into the year 2023.
The White Sox have made a lot of moves so far this off-season, however, none of the moves made have jolted the Sox up the rankings. The White Sox moved on from Tony La Russa at the end of last season, and have brought in first-time manager Pedro Grifol. Grifol has spent his coaching career in the Kansas City Royals organization but has received high praise from multiple big names across baseball. His claim to fame is to improve seven-time All-Star catcher Salvador Perez's hitting. Again, this hire still has some uncertainty to it and likely didn't help boost the White Sox up the power ranks.
On the players' side of things the Sox went out and added free-agent starting pitcher Mike Clevinger. Clevinger struggled last year finishing 7-7 after coming back from arm surgery. The White Sox are hoping that he can return to his old self with the help of Ethan Katz as well as having a full healthy off-season to prepare. Clevinger figures to be a backend of the rotation piece at the minimum and brings some high upside if he can return to form. Once again, this addition to the White Sox comes with a question mark.
The biggest surprise of the off-season is the White Sox signing of left-handed outfielder Andrew Benintendi. He comes to the corner of 35th and Sheilds on a franchise record 5-year, $75 million deal. While this adds a guy who slashed a .304 batting average, he does lack the power that 2022 needed desperately.
The improvement Benintendi brings to the lineup is somewhat offset by the Sox letting Jose Abreu walk in free agency. Abreu was third on the team in home runs last year with 15. While Benintendi does get on base at a fairly high clip, he only hit 5 home runs last year. The loss of Abreu's bat will most definitely have an impact on the 2023 White Sox. 
The White Sox will have to expect Grifol to get more out of the core of Yoan Moncada, Luis Robert, Yasmani Grandal, and Eloy Jimenez in order for the Sox to be considered contenders for the AL Central in 2023. While the off-season isn't over, the clock is certainly ticking for a team that was heavy favorites to be competing for a World Series title just a year ago.