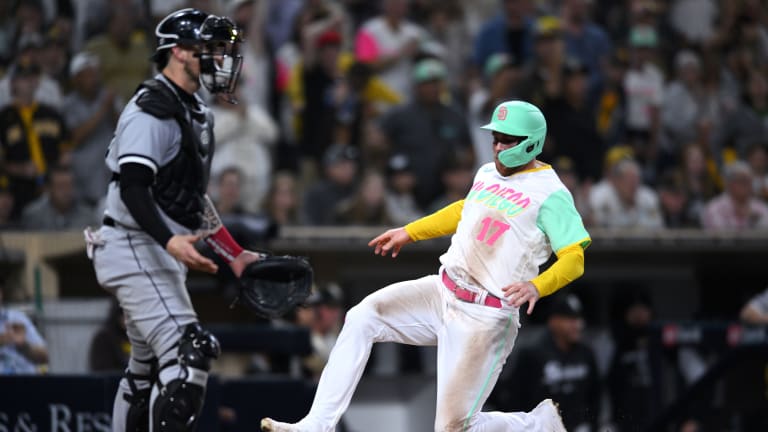 White Sox Lose 5-2 in Dylan Cease's Final Start
Padres starter Mike Clevinger stymied the White Sox offense and San Diego won 5-2 Saturday lowering their magic number to one.
The Chicago White Sox lost 5-2 on Saturday in Dylan Cease's final start of the year. Juan Soto and Manny Machado homered for the Padres, who can claim their first playoff spot in a full season since 2006 on Sunday with a win. 
They got help when Miami beat Milwaukee 4-3. San Diego leads Philadelphia by two games for the second of three National League wild cards. The Padres beat St. Louis in a first-round playoff series in the pandemic-shortened 2020 season but were swept in the Division Series by the Los Angeles Dodgers.
Things got off to a good start for the White Sox when Elvis Andrus took the game's second pitch for a homer. Andrus added two more hits including an RBI single in the eighth. However, two runs wouldn't be enough. 
The Padres got homers from Juan Soto and Jake Cronenworth in the first and sixth innings to take a 3-1 lead. White Sox starter Dylan Cease walked Brandon Drury and Josh Bell to end his outing. Joe Kelly came into the game in relief. 
Kelly allowed an RBI single to Aaron Nola before striking out Jurikson Profar to end the inning. All four runs were charged to Cease in his final start of the 2022 campaign.
Breakout Year For Dylan Cease
The last three outings were a bit rough on Dylan Cease and may have cost him the AL Cy Young award. Nevertheless, Cease had an incredible year and blossomed into the ace of the Chicago White Sox pitching staff. 
He was one of the few bright spots in a very disappointing year. Cease finishes the year with a record of 14-8, a 2.20 ERA, 1.11 WHIP, and 227 strikeouts in 184 innings.
"Still got some stuff to work on obviously, but there's definitely a lot of progress this year," Cease said after the game.
Clevinger held the Pale Hose to one run on three hits while striking out three and walking none. After allowing Elvis Andrus' leadoff homer, Clevinger retired 16 straight batters until one out in the sixth. He then retired the next two batters to finish his night.
Chicago White Sox News and Notes
The Chicago White Sox fell to 78-80 on the season. They need to win three of their final four games to finish above .500.
Michael Kopech underwent successful arthroscopic knee surgery to repair a torn meniscus. He will attempt to be ready for spring training.
What's On Tap Next?
The White Sox will send Lance Lynn to the hill to face Ian Snell in the series finale against San Diego. You can watch it all on NBC Sports Net Chicago. Sox On Tap will have the post-game.