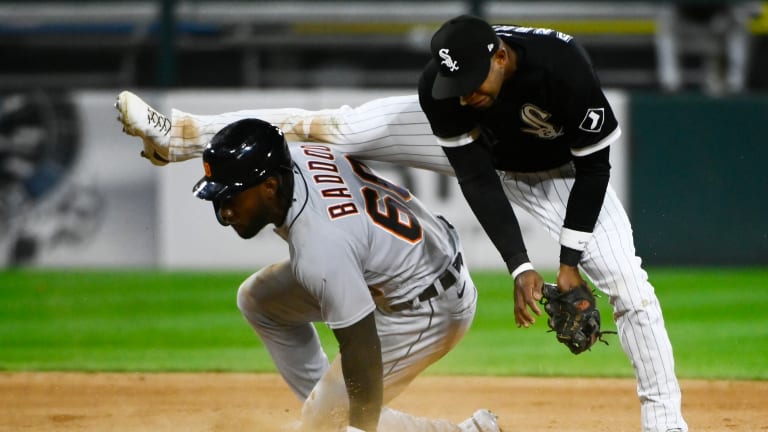 White Sox Free Fall Continues in Fourth Straight Loss
The spiraling Sox were sloppy in Friday's 5-3 loss at home against Detroit.
The Chicago White Sox continued their end-of-season free-fall on Friday night. The South Siders clawed back from a 3-0 hole but fell by a final of 5-3 to the Detroit Tigers. It was their fourth loss in a row.
Lucas Giolito had a good start overall. He struggled early, allowing two runs to score in the first followed by a leadoff solo homer to Jonathan Schoop in the second. Giolito settled down after that and allowed just two hits and one hit batsman through the next four innings. He fanned nine and walked Riley Green, who led off the game. Green scored on a groundout by Miguel Cabrera after Javier Baez doubled.
Some Life
The White Sox recorded their first hits in the third inning, which helped lead to their first run. Jose Abreu singled to score Adam Engel and put the home team on the board. It was the third single of the inning and cut the deficit to two. Eloy Jimenez drew a walk with two outs to load the bases, but AJ Pollock grounded into a fielder's choice to third to end the threat.
However, Pollock came up with a big hit in the sixth to tie the game at three apiece. Jimenez led off the inning with a base hit to center field. Pollock followed with a 388-foot homer to right field on a 1-1 sinker from Eduardo Rodriguez. The Tigers' starter allowed three runs on eight hits in his six innings.
Detroit Steals The Lead And The Game
The White Sox' bullpen failed to hold the lead. Lucas Giolito departed after the sixth and gave way to Reynaldo Lopez. Akil Baddoo led off the inning with a single and easily stole second and advanced to third when Yasmani Grandal airmailed the throw into center field. A sacrifice fly from Riley Greene was all that was required to bring home Detroit's fourth run.
Jimmy Lambert didn't fare any better in the eighth. Miguel Cabrera led off with a walk and pinch-runner Willi Castro stole second and advanced to third on a wild pitch. Lambert recorded two outs but made a mistake to Spencer Torkelson on a 3-0 pitch that landed in left for a ground-rule double. The Tigers' insurance run made it 5-3.
A Failed Strategy
The White Sox managed to threaten but couldn't score in the bottom of the eighth. Josh Harrison was hit by a pitch to load the bases after Pollock and Grandal had walked. Tigers' reliever Jose Cisnero was struggling with command and was relieved by southpaw Andrew Chaffin after lefty Gavin Sheets came out of the dugout to pinch-hit. Romy Gonzalez ultimately pinch-hit and struck out to end the inning.
News and Notes
Miguel Cairo said Tim Anderson faced some live pitching from Davis Martin. On whether Anderson will return "I think he can do it. But let's see what happens. We're waiting to see with the trainers and how he feels."
Luis Robert was not in the lineup again but did pinch-run in the eighth. He has started 11 of 38 games since hurting his wrist. He's hit .156/.192/.222 over that span.
"If he has a couple of days off, he feels better and soon he gets 2-3 at-bats, he starts feeling the pain again. I don't want him to get hurt and aggravate it. It's not fair." said Cairo.
White Sox minor league pitcher Jendersson Caraballo received a 60-game suspension without pay after testing positive for Stanozolol, a performance-enhancing substance.
Jake Burger was activated from the injured list.
What's On Tap Next?
The Detroit Tigers will start Drew Hutchison on Saturday as the Chicago White Sox send Davis Martin to the mound. Martin allowed just one run on three hits in six innings in his last start on Sept. 17 against Detroit. You can watch all the action on NBC Sports Chicago at 6:10 PM CT.
Tune in to the Sox On Tap podcast for postgame reaction and further White Sox commentary all season.