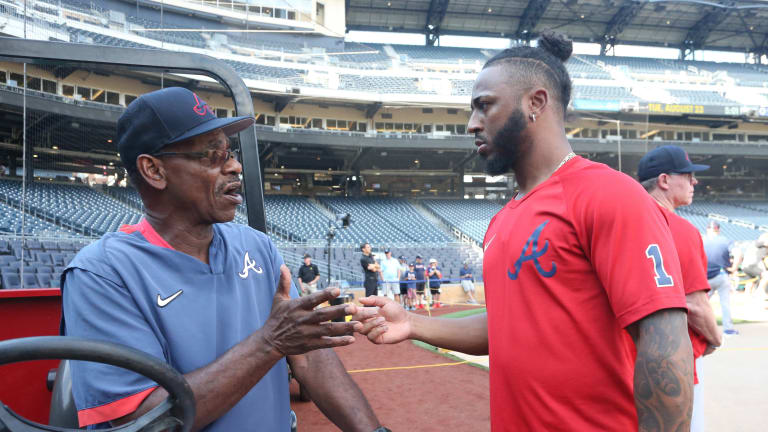 New Rumors Emerge Surrounding White Sox Manager Candidates
Bob Nightengale's Sunday column revealed a few early favorites to replace Tony La Russa as White Sox' manager.
It didn't take long for rumors of the early favorites to become the Chicago White Sox' next manager to emerge. Bob Nightengale of USA Today covered a few topics in his Sunday column before writing about the White Sox' managerial search.
"Some managers who fit the bill: Bruce Bochy, Mike Shildt, Ron Washington, John Gibbons, Bo Porter, Joe Girardi, Joe Maddon," the longtime reporter penned. "Bochy, Washington, and Shildt are considered the leading candidates."
General manager Rick Hahn doesn't always reveal the team's true intentions, but he did mention a few specifics regarding the next manager. Hahn shared the following thoughts during his season-ending press conference.
"Ideally, in the end, the right candidate is someone who has recent experience in the dugout with an organization that has contended for championships. Ideally, it's someone who is an excellent communicator, is someone who understands the way the game has grown and evolved in the last decade or so. But, at the same time has respect for old school sensibilities."

- Rick Hahn on the White Sox' manager search
None of the favorites named by Nightengale have any previous ties to the White Sox.
"Sounds like they really want a guy with experience," Nightengale wrote. "They don't want an unproven guy and they don't want a learning curve. They think the window to win is now."
Hahn and co.'s intentions are to make a run at the playoffs, so a former manager with experience makes a lot of sense. I previously shared some thoughts on "The Retreads" that were part of the gambling odds released by Sportsbetting.ag.
However, a new name emerged among the favorites: Atlanta Braves' third base coach Ron Washington. His resume includes back-to-back pennants with the Texas Rangers in 2010 and 2011.
Bruce Bochy
Bruce Bochy has three World Series championships on his resume. His experience in the dugout is not exactly recent, but 2019 was only three seasons ago. He fits Hahn's criteria well in terms of having old-school sensibilities and understanding the way the game has evolved. Bochy would bring 25 seasons of managing experience.
The Giants are one of the most analytical organizations in all of baseball. However, the White Sox have some issues such as underperformance, roster construction issues, and injury-prone players. This all leads me to wonder if this is a job that the former Giants' and Padres' skipper would come out of retirement for. The Sox will have stiff competition for his services as he is considered the top option on the market.
Mike Shildt
I initially wrote that Mike Shildt was a long shot, but he has now emerged as a favorite. His teams performed well when he managed the St. Louis Cardinals, an organization he spent a considerable amount of time with. In 2019, he was named NL Manager of the Year.
However, he was dismissed after the 2021 season despite three straight playoff appearances due to "philosophical differences." The details of those issues have never been disclosed and the firing came as a shock to Shildt. He checks all the boxes laid out by Hahn, but one has to wonder if the issues with the Cardinals will pay a factor.
He served in a player development role and as a third base coach with the San Diego Padres.
Ron Washington
Ron Washington has served in his current role with the Atlanta Braves since 2016. He was part of the Braves' World Series team in 2021 and fits the mold outlined by Hahn.
The Braves are a well-run organization with a successful track record in player development. Washington plays a large part in said development as he is considered one of the best teachers of fundamentals in all of baseball. We can all remember his character and the success of the early 2000s Oakland Athletics in the movie Moneyball.
That being said, he has an old-school hands-on approach with his players and a ton of experience in the analytics world.
Washington was the manager of the Texas Rangers from 2007-14. The Rangers made three consecutive postseasons under his watch, two of which netted AL pennants. His tenure ended in 2014 after he confessed to cheating on his wife and wanted to focus on rebuilding his home life.
Nightengale commented on Washington during NBC's Sports Sunday, dubbing him, "a brilliant, brilliant coach. Third base coach with Atlanta. He is such a great motivator, particularly with the infielders."
Practical Candidates
The Chicago White Sox need a manager that can come in and turn things around quickly. The three early favorites and others mentioned are fitting candidates.
Nevertheless, these are rumors that we should take with a grain of salt. The White Sox can be a bit unpredictable, but so far, the rumblings indicate that Hahn is staying true to his word. Fans wanting an outside-the-box hire will find these candidates uninspiring, but given the circumstances, a former manager is practical and solid options are in the mix.